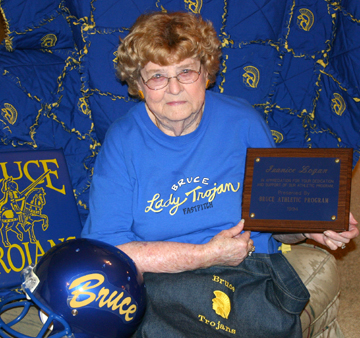 It would be difficult to find a more devoted Bruce Trojan fan than 81-year-old Juanice Kelly Logan.
"I've been to an awful lot of ball games in my life," Logan said.
Her love for the Trojans, however, started when she was still playing and left the dirt court of Banner for the gym at Bruce.
Logan attended school at Banner through the eighth grade where she was
an avid basketball player and enjoyed a fair amount of success."
"Banner had a lot of good ball players in those years," she said. "I
remember when we won the county championship, beating Sarepta."
At Banner, the team played on a dirt court, but when she began riding
the bus to Bruce for school in the ninth grade, she got to play in the
first BHS gymnasium.
"That was a big deal back then, playing in a gym," Logan said.
Her first coach at Bruce was Odein Ingram, who became more than a coach.
"I wasn't sure I was going to be able to play basketball, as bad as I
wanted to, because I rode the bus to school from Banner. I didn't have
a way home after the games. We didn't have cars," Logan said.
Coach Ingram solved all that by insisting that Logan could stay with her and her parents.
"They practically adopted me into their family just so I could play
basketball," Logan said. "I always remained very close to the Ingrams."
Jim Cook took over the basketball program from Coach Ingram the next
year. The Bruce girls earned trips to the state playoffs all four years
Logan was in high school, and that was in the days when only four teams
made the playoffs from all of North Mississippi.
One of her biggest moments at BHS was in a game against Derma.
"Derma was always real good in basketball," Logan said. "We were tied
at the very end, and I had one free shot to win it and I did. That was
definitely one of my high points."
After graduating from Bruce in 1945, Logan received a basketball
scholarship to Sunflower Junior College at Moorhead in the Delta.
Playing basketball, however, only accounted for half the scholarship.
The other half she earned by coaching the Delta high school team that
was also located at the junior college.
"I really enjoyed my time there," Logan said.
She only played one year at Sunflower before marrying W.J. Logan of Bruce and having "four wonderful kids."
Mr. Logan was a Bruce Trojan football player before being called into
the service for World War II. He worked at Columbia Gulf afterwards
before his death in 1985.
The Logans continued to remain active in Trojan sports through their
two boys – Jerry "Satch" and Darrell. Both played virtually every sport
at Bruce with Darrell excelling in football and Satch in basketball.
Mrs. Juanice recalled a game in the district playoffs at Water Valley
when Satch and the Trojans opened a big lead on Lafayette. Things
started to turn when Satch picked up his third foul (four fouls and you
were out of the game at that time), and Bruce Coach John Burt sat him
on the bench.
Lafayette began to gradually chip away at the lead until Mrs. Juanice could take no more.
"I'm the type of person that if I want you to know something I just say
it," she said. "I was sitting right behind Coach Burt and I hollered
'Just leave him out and get us beat.'"
Logan said every time she sees John Burt since he reminds her of that night.
One of her best memories of Darrell's football days was a night the Trojans beat New Albany.
"Darrell broke his collarbone that night, but that's not why I remember
it," Logan said. "I remember it because he played a great game and we
won."
She also recalled one of Darrell's best basketball games when the
Trojans went to state as a number four seed and beat the highly touted
number one seed Hancock North Central.
John Burt was coaching that team as well.
"I enjoyed all the games," Logan said.
And she continued to do so long after her children were out of school.
She rarely missed a game when Darrell took over as head coach of the Trojans.
"I bought that van," she said pointing to the driveway, "just for all
of us to go to the games. It only has 50,000 miles on it today, but
everyone of those miles was from a trip to a ball game."
Then it was her grandchildren's turn to play for the Trojans.
"There's something special about watching your grandchildren play ball," Logan said.
Grandson Chad quarterbacked the Trojans to the 1996 state championship.
His older brother Brad also played football and today serves as public
address announcer at Trojan football games.
Granddaughter Heather Stewart was a cheerleader, and Jordan Robertson
is the starting pitcher for the current Lady Trojan softball team.
"I just love all the ball games," Logan said. "I love to see good games."
One of her favorite games actually didn't involve any of her grandchildren.
She watched Archie Manning star for Drew in the state basketball tournament in Jackson.
"He was a great football player," Logan said. "But he was really good in basketball too."
Logan has always been an active supporter of the Bruce Booster Club,
often making Trojan quilts that were raffled for fundraisers. She was
among the many citizens who worked for the creation of Bruce Park.
She told of Darrell and Satch playing ball on the old field behind Fair Company.
"I am so thankful for that park," Logan said. "It is a great asset for Bruce."
In 1994, Logan was honored by BHS at its athletic banquet with a special award for her years of support.
"I'll never forget Sherry Jackson getting up and calling me to the front," Logan said. "That was very special."
The plaque still hangs on the wall right beside her favorite chair in her den.
She even displayed her athletic prowess a few years back when she
competed in the Senior Olympics at Jackson, winning gold in the free
throw shooting contest.
But it's been Trojan sports that has brought her the most joy, and more
specifically watching her many family members participate.
"I've loved every bit of it," Logan said. "What I'm most proud of more than the games is the people they've all become."