The Bruce Trojans, 11-12 overall and 6-2 in region, are looking at an opening playoff series against either Hamilton or Hatley.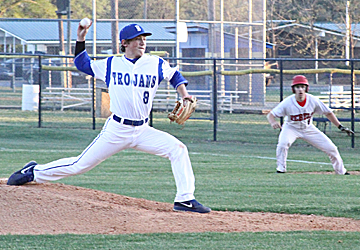 The Trojans have locked up the two seed for the playoffs and will play the three seed from region one beginning Friday, April 26. Hamilton and Hatley are scheduled to play twice this week to determine which gets in as number three. East Union and Baldwyn have locked up the top two seeds in that region.
The Trojans will complete their regular season this weekend with a game at Eupora Friday and at home against Eupora Saturday.
"We've really ended up about where I thought we would," Bruce Coach Josh Dowdy said. "We had a few games I thought we should have won, but I thought we should challenge for the region again and we ended up a two seed like last year."
The Trojans lost eight starters off last year's state championship team, but Dowdy said he's pleased with the development of his young team.
"I don't think people expected a lot from us because we're so young," Dowdy said. "We've said all year let's get in the playoffs and anything can happen."
The Trojans concluded the region schedule with wins over Hickory Flat and Potts Camp. They lost at Houston last Saturday 5-0.
Eighth grader Fisher Ray broke up the no-hitter with a late single for the Trojans.