Basketball season came to an end for Bruce High School Monday and Tuesday as the Trojans and Lady Trojans were both eliminated in the opening round of the Class 2A North playoffs.
The Trojans fell 68-54 at West Bolivar Tuesday night. Donta Armstrong led Bruce with 14 points. Terrence Jones added nine.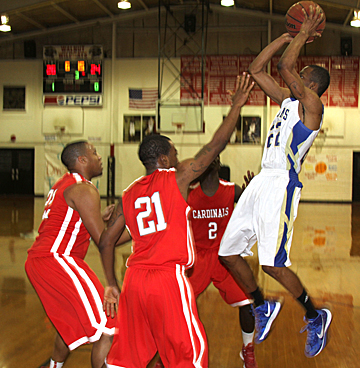 The Bruce Trojans routed Hickory Flat 57-27 last Friday night in the Region 2-2A Consolation game in Walnut after a disappointing Thursday where the regular season region champs were upset in the semifinals.
Shaq Bush led the Trojans with 13 points in Friday's consolation game.
The Trojans, who won the regular season title going unbeaten in region play, were upset by fourth seed Potts Camp 54-52 in overtime in the region semifinals.
Bruce was down three in the closing seconds of regulation when Taylor Shoemake, who finished with 10 points, drained a three-pointer to send the game into overtime.
Bruce led 52-51 in the final seconds of overtime when they rebounded a missed Potts Camp shot. The ball was passed to Donta Armstrong who was immediately fouled.
While walking to the line to shoot free throws, Armstrong was called for a technical for saying something to another player.
Potts Camp then went to the other end of the floor and made one of two free throws to tie the game at 52. On an in-bounds play from mid-court, a Potts Camp player got behind Rashad Turner breaking to the goal, caught the pass and converted the layup for the 54-52 final.
Shaq Bush finished with 11 points. Rashad Turner and Terrence Jones both had 10.
The Bruce Lady Trojans' season ended Monday night with a 44-30 playoff loss at Mound Bayou JFK.
Bruce was even most of the first half and led 24-21 at halftime, but was outscored 23-6 in the second half.
"We had some open looks in the second half and just couldn't get some open shots to fall," Bruce Coach Seth Burt said. "The girls played their hearts out. The goal just had a lid on it."
The Lady Trojans, who finished second in Region 2-2A during the season, went winless in the region tournament at Walnut losing in the semifinal round to Calhoun City 40-36 and falling 35-30 Friday night to Walnut in the consolation game.
Bruce had swept both games against the Lady Wildcats during the regular season winning both by double-digits.
Calhoun City led most of the game except a brief portion of the second period when Bruce rallied from nine down to take a three-point lead.
Akeshia Norris led the Lady Trojans with 12 points. Tiesa Steen scored 10.
Steen and Jerrica Denton led the Lady Trojans with 10 points each Friday night against Walnut.