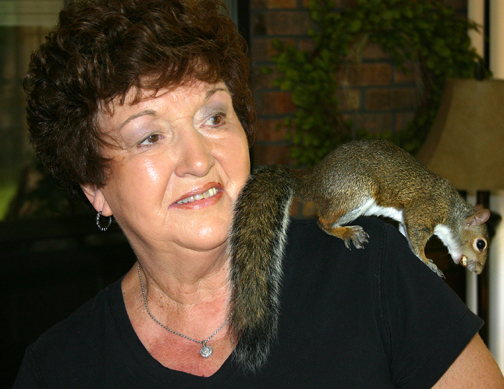 James and Linda Wright, of Calhoun City, were preparing for a camping
trip with good friends Zack and Betty Jo Stewart of New Albany, when
James made a discovery in the camper. "I thought it was a rat at first," James said. A closer inspection revealed the hairless animal with closed eyes was
actually a baby squirrel. James called Linda and she gathered the tiny
squirrel, warmed a blanket in the microwave and wrapped him up.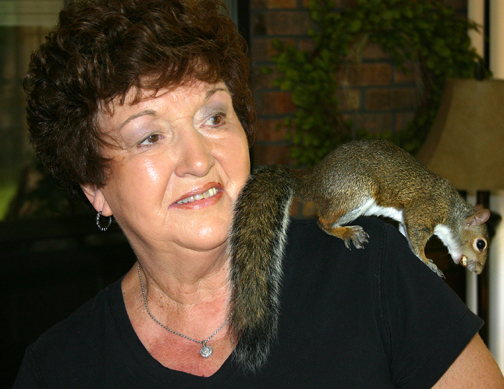 By JOEL McNEECE
James and Linda Wright, of Calhoun City, were preparing for a camping trip with good friends Zack and Betty Jo Stewart of New Albany, when James made a discovery in the camper.
"I thought it was a rat at first," James said.
A closer inspection revealed the hairless animal with closed eyes was actually a baby squirrel. James called Linda and she gathered the tiny squirrel, warmed a blanket in the microwave and wrapped him up.
She had a tiny bottle from where she nursed another young squirrel back to health years ago. They packed the bottle and took their new discovery on the camping trip with them in a shoe box.
Five months later, Copper, as the Wrights named the squirrel– despite the fact that Linda calls him "Tootlebug" most of the time– is quite healthy as he plays in the sunroom at their home in Ball Subdivision.
He runs to the door when he's ready to go out and promptly scurries up his favorite tree to play with a family of squirrels that live in the wooded area behind the Wright's house.
For the first three months, Copper lived in the sunroom where he was fed scalded cow's milk by bottle, eventually progressing to solid foods.
"Pecans, sunflowers seeds, cantaloupe, apples and M&Ms are his favorites," Linda said.
She "potty-trained" him using a large bird cage, after which time he had the run of the house.
"He has a great personality," Linda said. "All the grandkids love him. The neighborhood kids, like Coleman and Carson Suber, come around and play with him like he's a little cat."
"A lot of people have asked aren't we afraid he'll bite us," James said.
It's never been a concern for the Wrights. James mentioned the saying of "never biting the hand that feeds you."
Copper's preferred place to sleep was under the cushions of the couch in the sunroom.
"He makes himself a little bed out of Kleenex," Linda said as she rubbed Copper's white belly.
"He loves to be rubbed," Linda said. Copper raised his other tiny leg as if to identify the next desired rubbing spot.
"I didn't know I could train him, but I did," Linda said.
Copper continued to make the camping trips. He played in the trees and then would return at the call of his name. He slept on a self-made bed of napkins and Kleenex atop the entertainment center in the large camper.
The last camping trip the Wrights decided to leave Copper behind. When they returned, Linda called out "Tootlebug" and down came Copper.
For the past month, Copper has moved outside to stay, although Linda still calls him in each morning for a snack and a brief nap.
"I usually let him stay in for about two hours before I put him back out," Linda said while fluffing and curling Copper's tail as he gnawed away on a pecan.
Linda said she loves to watch him  hop around in the trees playing with all the other squirrels.
"I can't always tell them apart," Linda said. "At least until I go out there. Then he's the only one that doesn't run away."