By JOEL McNEECE
Tera Hardwick has many reasons to be proud, including a more than 30-year career of teaching school and leading the effort to re-open the historic Piney Grove CME Church. But ask her what she's most proud of and the short answer comes very quickly – "my children."

Hardwick and her late husband Woodrow raised 16 foster children. Some of her "daughters" and granddaughters still live with her in her small home near Piney Grove church on CR 460 south of Derma.
"When I would hear of the condition of their home, there wasn't anyway I could say no," Hardwick said in her soft, whisper-like voice.
She points to a wall covered in pictures of her many children and can't hold back the giant smile.
"I'm still close to all of them," she said. "It wasn't always easy, but even the worst days I still enjoyed it."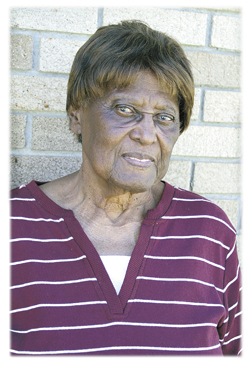 Hardwick knows about hard times, although she doesn't necessarily consider her upbringing as "hard."
She was born and raised on Dr. Aycock's farm near the Piney Grove Community where her parents, Minnie and Hayes Woodard, worked for him. She recalled being sent to the field to work at age seven, picking cotton, clearing ditch banks, whatever needed doing.
"We would pick the insects off the plants by hand," Hardwick recalled. "We couldn't spray everything like they do now."
Her mother would do laundry for the Aycocks. She would help iron and "sweep the yard."
One of six children, she said they never went hungry.
"We didn't wear the finest clothes, but we never went hungry," Hardwick said. "Daddy was a good hunter. He made sure we had plenty of food."
She attended school at Piney Grove and had to walk to the schoolhouse every day, regardless of weather. She said she had one pair of shoes, one coat and no lunch box.
"We carried our lunch to school in a bucket," Hardwick said. "We would have a biscuit, a little bottle of syrup and some kind of fatback meat."
There was never enough money for each student to purchase their own book for every subject, Hardwick said. They would pair up and share textbooks with other students. She said her "backpack" was made of cotton sack material.
Hardwick recalled the discipline program at school which involved a large jar of switches in the corner.
"When somebody was disobedient, you had to go pull a switch from the corner," she said. "We didn't have a lot of disobedient children."
Among her memorable teachers were Mrs. Eddie Armstrong, who inspired her to become a teacher.
She began her teaching career at Dentontown where she stayed for two years. She returned to Jackson State University to complete her education and returned to teach in Calhoun. She was planning to go back to Dentontown when she discovered Head Start.
"When I first visited Head Start I knew I needed to be there," Hardwick said. "I saw those children and knew I could make a difference."
She said discipline was the biggest need.
"I believe in showing a child you love them," Hardwick said. "You can't just say it. You have to do it. It's not going to be cake and pie every day, but if you don't do something for a child to prove you care, they're not going to make progress."
"A child knows when he's loved and when it's not real," Hardwick said. "I think our children today suffer from that."
When her school career ended, she went to work at the county's Department of Human Services for seven years. After Piney Grove CME closed for nearly five years, she led an effort to re-open the church founded in 1870.
"I was one of several working on that," Hardwick said modestly. "Mary Jean Gaston really did a lot for the church as have so many others."
Throughout her career, her "children" were her first priority, and they never doubted they were loved. Some came to her having never attended school. Others struggled to even dress or feed themselves properly.
"I had a good husband who helped me teach them all," Hardwick said.
Her husband Woodrow, whom she first met working together in the cotton field, died in 1990. She has continued after his death to be a role model like they both strived for with all their children.
"We tried to offer that example," Hardwick said. "You live what you teach. If you don't, then the child is not going to trust in you."
At 89 years old, Hardwick loves to work in her yard and make some of the best jelly in the area, which she shares with all her visitors and church family.
But most of all she continues to care for her many children, grandchildren and great-grandchildren.
"I love them all," she said. "They make me proud."