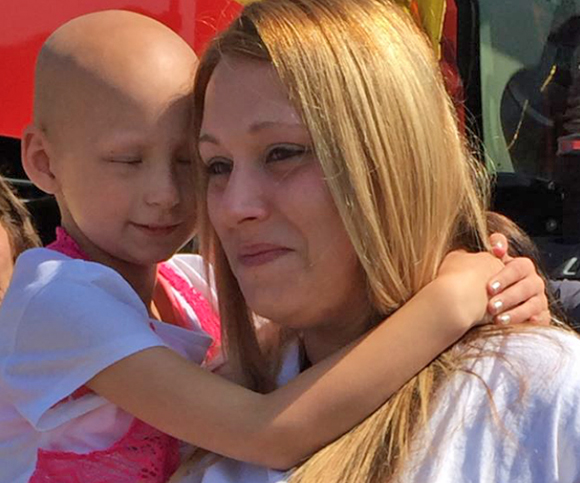 The long-time complained about bumpy road to Big Creek was made beautiful this weekend. Saturday, a two-mile-long parade stretched across Big Creek with one special little girl in the lead.
Katelin Stone, age 8, of Big Creek was diagnosed in January 2017 with Rabdomyosarcoma cancer, which originated in the soft tissue of the foot and spread to the lining of the brain. In June, she was sent home with hospice and given two weeks to a month and a half to live because her body was unresponsive to the chemo treatments. They were told there was no need for more scans.
However, her mother, Jessica Stone, was unwilling to accept that prognosis. As a firm believer in Jesus, Jessica was determined to keep fighting and urged her friends to pray for Katelin. The family made a choice to continue oral chemo treatments from home.
Amazed at how well Katelin was feeling a month a half later and the energy she was gaining, they defied their diagnosis and returned to St. Jude in August for more scans. They were shocked to find that the cancer had not spread. It had actually shrunk in some places, and completely disappeared in others. However, Katelin is still unable to go to school due to a low immune system and the devastation chemo causes her body at times.
The Big Creek community asked the Stone family what they could do to help. No requests for monetary gifts were made. Jessica's only reply was to help spread awareness by turning Calhoun City gold for Childhood Cancer Awareness month. The community did exactly that Saturday with a "golden" parade from Big Creek to the Calhoun City Square. More coming in this week's CCJ.