Tabias Campbell is accustomed to facing a bigger opponent most every Friday night. The 5'10", 210-pound senior defensive lineman for the Bruce Trojans said he relies on his quickness and coaching to make impact plays.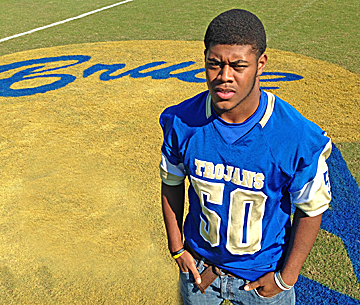 "I have to out work my opponent all night," Tabias said. "I focus on staying low and doing what I'm coached to do."
Those techniques were most apparent in the Trojans' match ups with Amory and Water Valley earlier this season.
"I was going up against some big guys against Water Valley," Tabias said.
Despite the size difference, Tabias recorded six tackles and forced a fumble in the game.
He had an even better night in the Trojans' 28-0 win at Amory when he recorded a season high eight tackles, a sack, broke up a pass and had a fumble recovery.
"It was just a good night," he said.
Tabias, 18, has played football for the Trojans since his seventh grade year. During that time he said he's built a strong bond with his teammates.
"We're a very close team," Tabias said. "It's like a family."
That closeness, Tabias said, has helped the Trojans on the field.
"We've become better together this year and that's important going forward into the playoffs," he said.
Next year he plans to enroll in a community college and then pursue a degree from a 4-year university. Tabias said he's undecided on what field he wants to enter, but is also interested in military service.
"I do want to join the National Guard," he said. "I feel like I want to help serve my country."
When his senior season does come to an end, Tabias said he will carry great memories of his years as a Trojan.
"I'm going to miss being out here with my friends," Tabias said. "We've been through a lot together. I'm going to miss them."