Join us for toddler story time Saturday, Feb. 8 from 10:20 a.m.-10:40 a.m.We'll have music, stories, and snacks.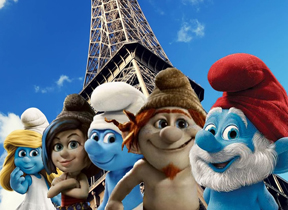 Programs are for toddlers with an adult helper.
Then grab the whole family for a Family Movie & Valentine Craft Party from 11 a.m.-1 p.m. Bring your sack lunch – we'll provide the popcorn. Movie rated PG. We'll make a small Valentine craft following the movie.
This month's movie: "The crew teams up with their human friends to rescue their friend, who has been kidnapped by the enemy since she knows a secret spell that can turn the evil sorcerer's newest creation - creatures called the Naughties - into real blue folk."
Can you guess the movie?
Movie Parties are sponsored by Friends of the Library. Call the library at (662)983-2220 for more information on these and other library programs.
Also be sure to check us out on Facebook at "Fans of the Jesse Yancy Memorial Library."