By JOEL McNEECE
Bruce native Stacey Gregory has a talent for transforming everyday items into eye-popping design features. It's a skill he's exercised beautifully in his latest project – renovation of a near 100-year-old home in Tupelo's Mill Village.

He was in the Mill Village area several years ago helping an aunt shop for a home when he discovered what would appear to most people a condemned house. Gregory saw a hidden gem.
"Old homes are in your blood," Gregory said. "I've always loved old homes, architecture."
The "spur of the moment purchase" had truly been condemned, but Gregory called on his father, Lader Gregory of Bruce, to help him transform the 1912 home into his vision.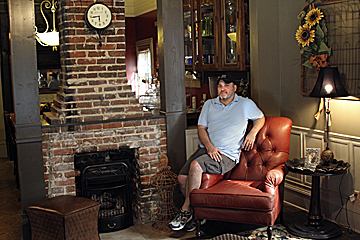 The only original part of the home Gregory maintained was the bead-board ceilings. They had never been exposed before in home's history.
"It was an incredible find when we uncovered those," Gregory said.
It wasn't the only incredible find, however. As they tore down an old wall they discovered a fireplace. The home, which was first a duplex, had original two-sided fireplaces on each side of the house.
"We had no idea it was there," Gregory said.
They restored the fireplaces and plan to install gas inserts in them.
The design throughout the house features Gregory's unique talents. Instead of installing kitchen cabinets, he transformed the tops of two china cabinets into glass cabinetry that hang high on the wall. He used another antique china cabinet top to for an entertainment center in the den.
His stove sits in a covey made from an old mantle that Gregory designed to extend from the floor to ceiling. An old dresser serves as a bathroom vanity.
Among his most prevalent design features are old doors. He cut one up and turned it sideways as a back splash under his wet bar. Others are incorporated into fireplace mantles and wall art.
"I collect doors," Gregory said. "I have a storage building full of them. They are great to use in design."
Even his functioning doors have an artistic feel. He took French doors and made them into stationary windows on the front of the house.
Another set of old wooden French doors with an arched top were incorporated in his foyer leading into the living area. He designed a header to fit them.
"My dad is great. I tell him my vision, and then we work great together to get it to what I want," Gregory said.
The two of them did all the work themselves.
"My dad is extremely talented," Gregory said. "My mother (Jane) helped out where she could also. She ran errands and frequently gave her opinions."
The renovation of the house was only a part of the total project Gregory is involved in. He's also actively involved in trying to renovate the neighborhood.
Similar to the E.L. Bruce Company, Mill Village is a neighborhood built around the old cotton mill. The cotton mill was erected in 1901 and the owners built houses, churches, schools and more to make a community for their employees.
"It was built to actually be a community within Tupelo," Gregory said.
All of the homes in the approximate six square block neighborhood were built between 1901-1920.
The old mill was recently purchased by local attorney Greg Pirkle, a partner with Phelps Dunbar. He plans to transform the mill into apartments.
Gregory said there is a 5-year plan for the neighborhood that include underground utilities, benches, light posts, and common plantings in right-of-ways to distinguish the neighborhood.
"We are luring people back to buy these old homes and restore them," Gregory said. "This was Tupelo's first planned neighborhood."
While the neighborhood work is ongoing, so is Gregory's renovation to his house.
"I'm still a long way from finished," Gregory said.
He did open the completed portions up last Christmas for the local tour of homes. He hopes to continue doing that every other year.
When asked what his favorite part of the house is thus far, he said he couldn't pick just one thing.
"It all is because it's been a family project," Gregory said. "My dad and I have touched every square inch of this house."
Gregory stressed to truly appreciate what's been done, you had to see it before.
"The house was so damaged, but that was a good thing in a way," Gregory said. "It allowed me the freedom to do what I wanted and still maintain the integrity of the house."
Gregory, who is preparing to launch an online design business, said he routinely heard from friends about the renovation.
"Everybody said I was crazy," Gregory said. "At times I thought I was."
But now, Gregory's vision is coming to fruition.
"We still have a long way to go," Gregory said. "But I'm really pleased."