Pam McPhail teaches World History, Mississippi Studies and Advanced Geography at Calhoun City High School and like to find ways to make them more interesting to students, so she is bringing in speakers to talk to the classes.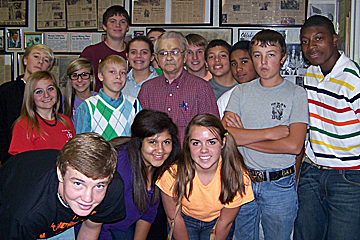 She said that speakers have lived through the history she teaches and that they provide an eyewitness account to history.
So far she has had three speakers to come talk to her classes.  She had Mr. Bobby Hood who is an Elvis impersonator. He spoke to the class and then sang to them.
She also had Mr. Billy McCord, president of the CCHS school board.  He was an eyewitness to the conflict involving the enrollment of James Meredith at Ole Miss.
She also had Mrs. Irma Boland, who was the distribution manager at Kellwood.  She spoke on ethics and the importance of doing your job.
Mrs. McPhail said that she will be getting more speakers as the year progresses. She said she would like to bring in Rick Ward from Brandon. He is the author of three books.
She said that ideally she would have at least one speaker a week. She said that it provides a whole new dimension to the class.  Some students have even gotten involved by asking if their family members could come and speak.
Mrs. McPhail really wants speakers who have lived through various wars. She said that anybody who would like to volunteer to speak can contact CCHS at 662-628-5112, and ask for Mrs. Pam McPhail.
She said that it is a wonderful learning experience and that it makes history come alive.