The Vardaman Rams are still in search of their first win of the season after a 30-6 loss to South Pontotoc Friday night in the home opener at Carter Field.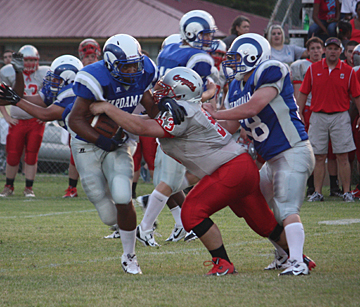 The Cougars' Armon Gregory opened the scoring when he intercepted Ram QB Brandon Walker on Vardaman's first possession and returned it 46 yards for a touchdown. Austin Rainwater's extra point gave South the early 7-0 lead.
They would stretch that to 23-0 by the half on a 6-yard scoring run by Josh Estes, a 54-yard TD pass from Wesley Ross to Clay Hood, and 36-yard field goal by Rainwater.
Ross and Gregory connected on a 30-yard touchdown pass early in the third quarter for a 30-0 South lead.
The Rams' only points came on a 30-yard touchdown run by Quon Cummings at the beginning of the fourth quarter.
Vardaman will be at home again next Friday when they host Noxapater.