The last time Shirley Bratton of Calhoun City saw her brothers and sisters was more than 60 years ago when they were being carried to the Methodist Childrens' Home in Jackson for adoption.
Her father was in prison, and her mother was incapable of caring for the six children.
Shirley searched unsuccessfully for her lost family for decades, finally making progress when her daughters Laura Edwards and Leigh Childs, both of Calhoun City, joined the search.
After more than sixty years of wondering what had become of her siblings, she was recently reunited with a few of them.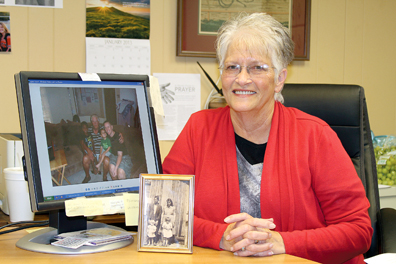 "I can't explain the feeling," Shirley, now 66, said of visiting with her oldest living sister and two brothers. "There was a whole lot of love coming out."
It was a meeting Shirley wasn't certain would ever happen.
Shirley's birth parents were Burt Lennis "Burtis" and Cadys Ruth "Ruthie" Harville Fincher of Iuka. They were raised in a very modest home place in Tishomingo County.
Shirley never knew why they were sent to Jackson.
"I don't know if it was my mother's decision or Social Services had something to do with it," she said.
She went to the childrens' home with four of her siblings – Virginia Faye, Dorothy Mae, Gene, and Brenda Arlene. Another brother, Jerry, died at age four before Shirley was born.
Virginia Faye ran away from the children's home and made it back to Iuka, where her mother decided to keep her there with the oldest daughter, Mary Ann.
"I don't remember life in Iuka," Shirley said. "I remember a little about the childrens' home. I remember staying in dorm-like rooms and playing with Gene."
She was six years old when Mary Jessie and Harold Boland of Calhoun City visited the home seeking a child to adopt. They had been married 13 years.
"I remember coming to Calhoun City," Shirley said. "Gene came with us. My parents (Bolands) wanted to keep him too, but he had been chosen by a family in Walnut. We carried him up there. I just remember crying a long time when we left him."
Shirley's name changed from Shirley Jeanette Fincher to Shirley Jean Boland after the adoption was finalized.
"I couldn't have had better parents," Shirley said. "I never wanted for anything. They were loving, Christian parents. They were very open about the adoption and we talked about it all the time. They never hid anything from me."
Records, however, were sealed and the Bolands, Shirley nor anyone else could get access to find out what happened to the other siblings.
The breakthrough came last year when Laura and Leigh's search for their mother's second oldest sister, Virginia Faye Fincher, kept pointing them to Virginia Faye Skelton in Burnsville, Miss.
They discovered her name in an obituary in The Daily Corinthian listing her as a survivor. They tracked down a phone number, but could never get an answer, so Shirley and  husband Larry took matters into their own hands.
"We just took off one day and decided to go to Burnsville," Shirley said.
Their search led them to Judy Hamm – Virginia Faye's daughter and Shirley's niece whom she had never met.
"We pulled up to their house and her husband was in the front yard. I asked if he knew Virginia Faye Skelton. He said, 'yes, she's my mother-in-law,'" Shirley said.
They explained who they were and Hamm immediately telephoned his wife and told her "you need to come home."
"We had a tearful reunion right there in the front yard," Shirley said. "It was overwhelming."
Then the big moment came. She learned Virginia Faye now lived in Cherokee, Alabama. They went inside and made the phone call. For the first time since she was six years old, Shirley heard her sister's voice.
"We just squalled and squalled," Shirley said, wiping away more tears. "It's indescribable."
The visit produced new information about the family. When their mother sent them to Jackson, she was pregnant with another sibling – Larry Ray, who also lives in Cherokee, Alabama.
Shirley learned from Virginia Faye her mother lived in Alabama until she was 83-years-old. Her father died in prison at age 70.
She was told their oldest sister, Mary Ann, died in 2010. She had married John Sanders of West Point and had a son Jay. They had moved to Saco, Maine.
Perhaps the most moving news was that of her younger brother Gene. Virginia Faye told her Gene was adopted by a Boyd family. Finally, Shirley had a last name to search for.
Shirley's grandson Mitchell Edwards helped with the search for Gene on Facebook and everywhere else. They found a Gene Boyd in Carson City, Colorado and decided to send a private Facebook message to ask the big question.
"I told him who I was and why I was asking and just wanted to know if he was that Gene Boyd," Laura said. "It was an agonizing two weeks before we got the response. It just said 'Yes, I am.'"
Laura and Leigh began talking to Gene by phone for the next two weeks.
"He said he needed a little time to gather his emotions before talking to Mom," Laura said.
Gene had been searching for his family since he was 18 years old. His adopted family never spoke much of his original family, but he always wanted to know.
"I dreamed about it all my life," Gene said. "I had looked for so long I had about given up hope."
Then this past December, he was reunited on the phone with Shirley.
"He said 'this is Gene,' and there was dead silence," Shirley said. "He said he needed a minute to collect himself. We both did."
"It goes far beyond emotion," a tearful Gene said of the first phone call. "You never stop loving your family. They can take you away from them, but you never stop loving your family."
"It's just so overwhelming when you find them," he said. "I realized there is a God and we were meant to be united."
Gene and Shirley have talked once or twice a week ever since, discovering new things about their long lost family with almost every conversation.
"I've learned I have music on my side of the family, too," Shirley said with a big smile.
The Bratton Family has long been known for their musical talents, performing gospel concerts throughout the region. Shirley has now learned that her mother and her siblings performed on a radio show for years in Corinth.
"Gene used to be an Elvis impersonator," Shirley said with a wide grin. "I just love it."
Over the past many weeks, Shirley has tracked down more nieces and nephews and become reacquainted with many of her family members once thought lost forever.
"I have a sense of belonging," Shirley said. "Now all of my family members say you talk like mom, or you look like this person. I never sounded or looked like anyone before. It's just an awesome feeling to know I belong somewhere beyond just Larry and my children."
This June, Larry and Shirley are traveling to Colorado for the first face-to-face meeting with Gene. "We can't wait," she said.
Then in December, all of the known family are planning a reunion in Calhoun City.
"It's hard to find words to describe what that will mean to see all that family together," Shirley said.
In the meantime, the search goes on for two siblings – Dorothy Mae Fincher, believed to be 68 years old, and Brenda Arlene Fincher, 61 years old. Both were thought to be adopted from the children's home. Shirley received information from a former employee of the home that Brenda may live in the Tupelo area.
"We desperately want to find both of them and bring the family back together," Shirley said.
Anyone with any information is urged to call 662-414-0915 or 662-628-8440.