By JOEL McNEECE
Senator Roger Wicker spoke of his Big Creek roots and some national policy during a visit with the Calhoun City Rotary Club last week.

Wicker was visiting Calhoun County with his father Fred Wicker, of Pontotoc.
"No sooner than we crossed the county line around Sarepta, Daddy said 'now this is where the gravel road was when I started coming,'" Sen. Wicker said. "He remembered it being very crooked."
When they pulled on to the Pittsboro Square Sen. Wicker said his father pointed out the room on the corner of the courthouse where he got his marriage license. Sen. Wicker said it was his first view of the new courthouse going up.
"Congratulations on the new courthouse," Sen. Wicker told the Rotarians. "It was a long time coming."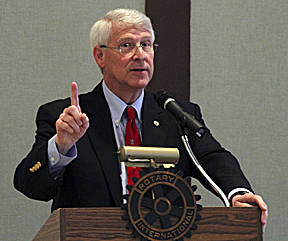 Sen. Wicker explained that the "Fillin' Station" restaurant on the Calhoun City Square has the windows from his grandparents' (Mr. and Mrs. James Cedric Threadgill Sr.) home in Big Creek.
"It was the only thing that was saved from the house where Daddy and Mother (Wordna Glen Threadgill) got married back in 1948," Sen. Wicker said.
They traveled down Old Hwy. 8 to Big Creek where Mr. Wicker pointed out where his car broke down on the way to his wedding.
"He and his brother Murray were driving to Big Creek to the wedding when the car got overheated. They opined that the wedding would not start without him," Sen. Wicker said. "After a few minutes his bride-to-be, my mom, sent a couple of her brothers to find Fred."
Sen. Wicker spoke of spending a lot of time with his grandparents during his youth and often riding along on the deliveries of Grenada Farms' Milk. He told the story of once coming to eat at a cafe on the 'City Square where Kevin Howe's law office is now and wanting to order cereal.
"Granny would not let me order cereal because they weren't serving Grenada Farms' Milk," Sen. Wicker said.  "This is indeed a trip down memory lane for the Wickers."
Sen. Wicker opened his talk on national policy speaking of the near government shutdown in Washington, D.C.
"We have a $13 trillion debt and our federal government has been adding to that the last couple of years to the tune of $1.5 trillion per year," Sen. Wicker said. "The spending is high and is exploding."
Sen. Wicker said the nation will reach its "debt ceiling" within a month and there is no "consensus between the Republican House, Democratic Senate and the President of the United States about how to deal with it."
Sen. Wicker referenced Standard and Poor's downgrading the nation's credit outlook for the first time.
"It was embarrassing," Sen. Wicker said. "It was meant I think as a warning sign."
Sen. Wicker said he thinks "we are about to wind up the war in Iraq successfully."  He said Afghanistan remains a "dangerous war," but during questioning of the amount of money being spent overseas, Sen. Wicker said he is still a big "supporter" of the war.
Sen. Wicker said of the ongoing "upheaval in the Arab world" that he hopes it spreads to Iran, because a "regime change is needed there."
He said the ongoing unrest in the Middle East is impacting us at the gas pump, but said he believes the United States has enough resources to be "self-sufficient" if authorities would only allow drilling in the continental U.S.
"We have enough oil and gas to be the OPEC of the world, we just won't drill it," Sen. Wicker said. "For whatever reason the policy of the United States over time has been to make this off limits and that off limits and we need to get real about that. I'm a drill here, drill now man myself."
Sen. Wicker said the Deepwater Horizon oil well disaster in the Gulf of Mexico last year was the first in 30,000.
"Everything is risky," Sen. Wicker said. "When I got in the car today at Pontotoc, it was risky – once every 30,000 trips someone has a wreck."
Wicker said "Obamacare" would take $500 billion out of Medicare and require a tax to cover Mississippi's portion of the Medicaid program.
"Our governor and our legislature tell me that we cannot afford that," Wicker said. "There's really no way we can increase taxes enough to pay for that Medicaid match under Obamacare."
"They talk about a need to expand healthcare to the people that are uncovered – a worthy goal, a goal that I support," Wicker said. "I would do it through the private sector. I would do it through competition and try to help hold the price down."
Wicker said "Obamacare's" method of expanding healthcare is to make millions more eligible for Medicaid.
"That's not a very innovative idea," Wicker said. "Half the doctors won't take Medicaid. Actually the doctor would rather give charity care than have to deal with all the paperwork and the hassle they have working with Medicaid."
Wicker said if he could pick the era for his grandchildren to grow up in, he wouldn't choose after 2011 in America.
"We have some real challenges," Wicker said.
Wicker went on to talk about the problems America faces with too many people dependent on the government.
"There are about now as many people in the wagon being pulled as there are people out there working for a living and pulling the wagon," Wicker said. "That's a problem we have."
Sen. Wicker was a guest of Rotarian Willie Reed.