Dr. Bruce Longest and I made the most of our three day visit to Seattle last weekend for our annual NFL get-away. We took in all the views from the famous Space Needle, watched them toss fish around like footballs at the Pike Place Market in downtown and enjoyed the mild climate during two fabulous football experiences.
Saturday we put on our purple and gold to support the home Huskies as they hosted Idaho State. The actual game was anti-climatic as the Huskies jumped out to a 35-0 lead in the blink of an eye, but the scenery provided constant drama.
Husky Stadium was the most beautiful college stadium I've seen with picturesque views in all directions. There didn't appear to be a bad seat in the house, including our cheapies in the end zone. The view behind us of the Cascade Mountains and Lake Washington belonged on a canvas in an art gallery.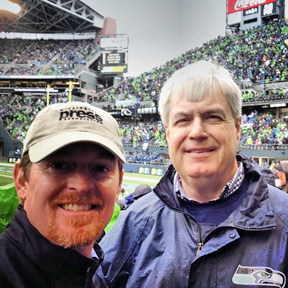 The spotless stadium and campus with its high energy fans made us feel we were back at home in SEC territory.
Sunday we joined the loudest crowd in the NFL at Century Link Stadium where the Seahawks demolished the woeful Jacksonville Jaguars.
This was our ninth NFL adventure and my 14th NFL stadium all total and I must say the best.
The stadium's location, so close to downtown; its many amenities, pregame festivities in the adjoining arena were unmatched by other places we've visited; and unrivaled fan support make it the best NFL experience in my book.
My ears were still ringing an hour after the game during which no one around us came close to sitting down. I spotted several fans in the concessions areas wearing ear plugs. That would have been a good purchase.
I thought we might relax at halftime, but the annual "Wiener dog races" proved more competitive than the game. The Daschunds raced 40 yards to the end zone to the roar of the crowd in two heats and then a championship race.
It rained on us during the first half, but sunny, blue skies returned for the third quarter. We didn't really mind the rain. It wouldn't have been right for us to visit Seattle and not experience a few showers.
Despite several efforts, we were unsuccessful in locating Seahawk fan and Bruce native Bobby Kulvanish at the stadium, but Dr. Longest did find his cousin Joe Bryant and his wife Kelly.
When we weren't watching football, I was drinking coffee - Starbucks to be exact. There was literally a Starbucks on every corner and I stopped in almost every one of them, including the original store a few blocks from our hotel near the public market.
Trying to pick out the single greatest highlight of the weekend proved too difficult, which is the sign of a great trip. It certainly set a high standard for whichever city we choose next year for our 10th annual adventure.
Email Joel McNeece at joelmcneece@gmail.com & follow him on Twitter @joelmcneece