Authorities continue to search Calhoun County for a man who fled a traffic stop by Webster County authorities Tuesday night.
Kristopher Box, 32, originally escaped from an MDOC work site near Jackson last November.  He was pulled over in Mathiston Tuesday night but took off on foot after police spotted a portable meth lab in his vehicle.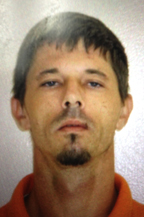 Calhoun officials were notified Wednesday that he may have been dropped off at Ward's Short Stop in Vardaman.
Vardaman Police Chief Kenny Scott was dispatched around 3 p.m. Wednesday and stopped a man on foot near Jim Blue's house on Hwy. 8 west of Vardaman.
Scott said he had a brief conversation with the suspect who said he was going to Grenada. Scott and Sheriff Greg Pollan said the description Calhoun County was given didn't match the appearance of the suspect stopped by Scott, but when Scott attempted to take him into custody to be certain, Box fled on foot into some nearby woods.
Pollan said Box's hair is more grey than the MDOC picture shown here and he is extremely thin.
Eight different agencies converged on the area around CR 428 and 433 west of Vardaman and conducted a search well into the early morning hours Thursday. Thermal imaging cameras were used to try and locate him as well as Justin Wade's airplane.
As of 10 a.m. Thursday, Box still remains on the loose. The last time he was spotted was around 7 p.m. Wednesday on the late Howard Morgan's property.
Sheriff Greg Pollan said citizens are asked to be alert, but the suspect is not believed to be armed or dangerous.