T-shirt sales are well underway for the 22nd Annual Bruce Sawmill Festival which opens Thursday, July 11.
T-shirts are available at the Bruce Chamber Office, Jeffery's on the Square, and at the Bruce Piggly Wiggly. They come in three different colors to choose from – blue, tan and pink.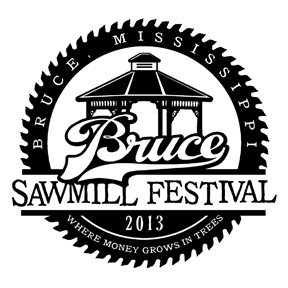 "We've had a great response to our logo this year," Chamber Secretary Carol Shoemaker said. "We hope everyone will come out and get them a shirt."
The annual festival will begin Thursday, July 11 at 7 p.m. with the annual Aqua King and Queen pageant sponsored by the 20th Century Club.
The pageant will again be held at the multi-purpose building in Pittsboro. Registration will begin at 6 p.m. The entry fee is $20.
The festival will officially begin on the Square Friday, July 12 at 6 p.m.
Friday entertainment will be provided by Lyrix and The Flames.
Festival activities will continue Saturday with the golf tournament at Yoda Creek and a 5K run in downtown Bruce.
Registration for the run begins at 7 a.m. The 5K run and 2K walk will begin at 8 a.m. with a kids' fun run at 9:30 a.m.
Activities on the square will begin at 9 a.m. and include a wide assortment of arts and crafts, food options, live music and lots of games for children.
"We have a lot of the same vendors returning along with a lot of new ones, too," Shoemaker said.
The Sawmill Festival's annual Show and Shine Car Show will be held on South Newberger this year.
For more information on any of the events or vendor information you may contact Carol Shoemaker at the Bruce Chamber office at 662-983-2222 or email her at chamber@brucetelephone.com.