By JOEL McNEECE
Robert Earl  McGregor picked up his first pair of clippers when he was 15-years-old to cut his grandfather Ed Dye's hair. He hasn't quit since and has no plans to stop anytime soon.
"I don't intend to quit," the 76-year-old  McGregor said with a smile. "I'm going to work two days after they close the lid on me. I'd really like to cut hair until I'm 100."

McGregor has been operating his old style barber shop on Main Street in Vardaman ever since he bought the business from Elton Ramage in 1959. He worked with Ramage a few years before buying him out.
McGregor's shop hasn't changed too much since the 1960s. Chairs still line the walls for his loyal customers and friends who come by for a $5 haircut or just to chew the fat.
"I still have a lot that come by just to hang out, but not like it used to be,"  McGregor said. "In the 1950s and 60s I'd open early in the morning on Saturday and stay until nearly midnight. That was when everybody came to town. I'd do more business on Saturday than the rest of the week combined."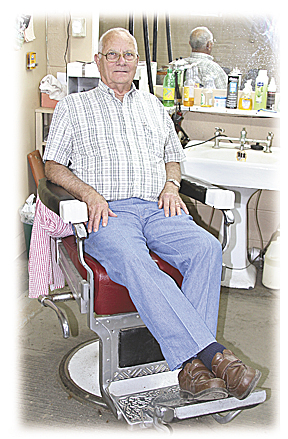 Hanging in a shadow box in the corner of his shop are his original tools he inherited from his father, the late Lewis  McGregor, including a set of hand hair clippers (similar to the electric clippers of today but with plier like handles to be squeezed).
"I used them all the time in those early days,"  McGregor said.
His father was a popular community barber. People would come over to the house on Saturdays and Sundays for him to cut their hair. When he died in 1950, Robert Earl's Grandfather Dye told him to cut his hair.
"I learned from watching him and just started cutting," he said. "I really enjoyed it."
He enjoyed it so much, he decided after school to attend barber college in Memphis.
He's barbered continuously ever since, even during a 20-year stretch from 1980-2000 when he served as Calhoun County's tax assessor.
"My wife nor my mother wanted me to run,"  McGregor said. "I don't know why I did or why I even picked tax assessor. I asked myself that many a time."
McGregor gave credit to the "people of Calhoun County" as to him staying in office for 20 years.
"There was a lot of pressure to it, but I really enjoyed meeting and being around all the people," he said.
McGregor credited his co-workers in the tax assessor's office as well as to why he did enjoy it so much.
"It was just like a family, all of us,"  McGregor said.
Current Tax Assessor Bill Malone was among that "family" working for  McGregor for 17 years before succeeding him in office. He is also a customer of  McGregor's.
"Bill's hairstyle would be among the hardest to work with,"  McGregor joked of Malone. "You never know where to part it."
McGregor said there were some trying times, like any county office.
"When I first went over there, I thought what in the heck have I gotten myself into,"  McGregor said. "But after a while you learn you can't please everybody. You just do the best you can."
McGregor retired from the office at age 65 upon completing his fifth term.
"I thought it was time for someone else to have it," he said.
But he never stopped barbering.
"I'd just come over after work and stay open late to catch up,"  McGregor said.
His all-time favorite haircut is the flat-top.
"That was a big thing when I first started and it's actually come back a little,"  McGregor said. "I'm doing a few flat-tops now."
His full-service barber shop also still offers a shave, a skill he learned at barber college.
"I had never shaved anybody before that,"  McGregor said. "The first fellow I shaved with a straight razor, they needed a medic."
After 52 years of operating his own shop,  McGregor is quite comfortable today with the straight razor in his hand.
"I still do a lot of shaves,"  McGregor said.
He's not as comfortable with scissors.
"I hardly ever use them,"  McGregor said. "I always use the clippers. These old hands won't let me use the scissors much anymore."
McGregor, who now serves as a Vardaman alderman also, said it's that time in his barber shop with his customers that he continues to love best.
"I'm just not much for sitting around the house,"  McGregor said. "This is what I've always loved doing, so I'm going to keep on."