By JOEL?McNEECE
Rebul Academy rallied from an early deficit and held off a Cougar comeback to hand Calhoun Academy its first loss of the season last Friday night.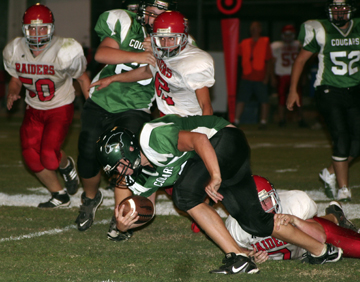 The Cougars lost a tightly-contested game 28-20 to fall to 1-1 on the season.
"We left several scoring opportunities on the field," Calhoun Academy Head Coach Sonny Wright said. "Overall, I was real proud of the team. That was a very good ball club we played."
The Cougars jumped out to an 8-0 first quarter lead when QB Hunter Harmon connected with RB?Danny Joe Norman on a 27-yard touchdown pass.
Rebul answered with 20 unanswered points the rest of the first half to take a 20-8 lead into the break.
Harmon then opened the second half with a 52-yard touchdown strike to Tanner Brummett to cut the lead to 20-14.
After Rebul scored again to go up 28-14, Harmon hit Corey Baggett with an 8-yard touchdown pass to close the gap to 28-20, but the Cougars could draw no closer.
Harmon finished the game completing 10-29 passes for 125 yards and three touchdowns. He also rushed for 39 yards on 10 carries.
Norman rushed for 67 yards on 17 carries. He also had two receptions for 34 yards.
Kyle Carter rushed 12 times for 58 yards.
"Defensively I thought it was one of our better games," Coach Wright said. "We just gave up two huge touchdowns on fourth and long plays that really hurt us."
Storm Laster led the defense with 10 tackles. Norman recorded eight and Baggett seven.
"It was a very physical game," Coach Wright said. "In the end we just didn't execute as well as we wanted to ."
The Cougars will try to improve on that this week with unbeaten Kemper coming to Calhoun. Kemper was the preseason favorite to win the Class A 8-man crown with 15 seniors on the roster.