The Vardaman Rams dropped to 1-10 on the season with a pair of losses to Walnut and West Union over Spring Break.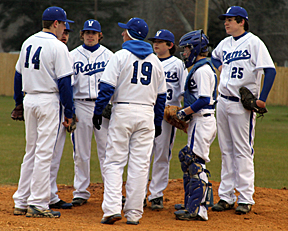 Walnut topped the Rams 7-2. Chase Owens, Aaron Dauzat and Kent Casey each had two hits for the Rams. Adam Wright and Brandon Washington each had one.
Ty Long and Kemp Edmondson pitched for the Rams.
The Rams fell to West Union 11-7. Aaron Dauzat and Trae Owens both pitched. Chase Owens, Kent Casey, Aaron Dauzat and Tyler Boyette all recorded hits.
Vardaman is on the road this week including a Saturday game at Bruce.