The Vardaman Rams outscored Coldwater 24-8 in the second half to rally for a 40-32 victory before a homecoming crowd last Friday night.
The Rams improved to 4-0 in region play, the only unbeaten team left in 1-1A.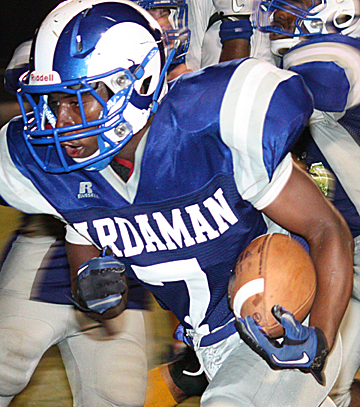 "It was big for us to overcome adversity, to bounce back after last week, get punched in the mouth early and not lose faith, just keep fighting and came through," Rams Head Coach Justin Hollis said.
The adversity came in the form of a blowout loss at Coffeeville last week and a 32-16 deficit to Coldwater with just over five minutes remaining in the third quarter.
"That's when our offensive line really took over," Hollis said.
The Rams' line, led by seniors Dillon Landreth, Cody Smith and Adam Wright, along with John Moore and Leo Rojo, opened big holes for QB Cody Jenkins and Donta Walker.
Jenkins finished with 206 yards on 31 carries and two touchdowns. Walker rushed for 141 yards on 24 carries and a touchdown.
"They've been playing well up front, except at Coffeeville," Hollis said. "They just took control like we've been wanting in that second half last Friday."
After surrendering some early points, the Ram defense stepped up late in the game also. Cody Smith led the charge with 12 tackles. Mack Armstrong added nine and Kent Casey seven, including three sacks.
They also forced four turnovers. Jenkins, Walker and James Avant all had interceptions. Lakreston Ewing had a fumble recovery.
"The defense got a lot better in spots, but on that last touchdown we gave up we had six missed tackles," Hollis said. "We have to make the plays consistently."
Hollis said the Rams also need to get everybody healthy. Landreth is expected to miss this week's game at Biggersville with an injury.
"We haven't had everybody healthy at once yet," Hollis said. "That will be important by the time the playoffs come around."