Join us at Jesse Yancy Memorial Library in Bruce for events celebrating National Library Week – Communities Matter at Your Library!
The celebration starts Friday, Apr. 12 at noon as we learn about The Fabric of Hope, a great organization whose mission is "to cover nekkid noggins and provide a smile" by providing hats to cancer patients, free of charge. Then we'll lend a hand by helping cut pattern pieces. No sewing skills are required.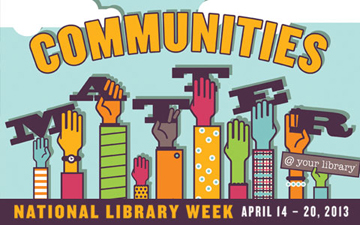 On Tuesday, Apr. 16 at noon, join us for a Brown Bag Luncheon with Mississippi author Kay Campbell.
Mrs. Campbell, a native of Tippah County, will be sharing her book "Blood Runs Cold."
"Dust covered everything.  It hadn't rained in a month, and when people talked, the first topic discussed was the heat and drought. Under the shade tree in the backyard, the little boy was contentedly filling his toy dump truck with sand. He felt himself being lifted and smiled in anticipation of seeing his mom, but it wasn't her."
Dessert and coffee will be served. Books will be available for purchase following the program.
Gather the whole family and join Saturday, Apr. 20 from 11-11:30 a.m. for a fun time of songs with Maura Fields.
Maura McIntosh Fields, a retired elementary music teacher for the Pontotoc City School District, will be sharing songs from her children's CD "No More Couch Potatoes!!!" All ages are invited. Children under 8 must be accompanied by an adult. Take advantage of this free, fun, family program.
For more information about these programs or library services, call the library at 983-2220 or check out the library's Facebook page "Fans of the Jesse Yancy Memorial Library".