The annual "Pick'em and Win" football contest returned in this week's edition of The Journal where readers have an opportunity to win up to $25 and a t-shirt.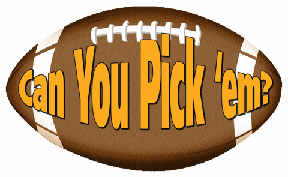 The contest can be found on page 10 of today's (Wednesday) newspaper with 14 games for football prognosticators to try and pick correctly.
Fill out your ballot and cut it out of the paper and turn it in at The Journal office at 207 North Newberger in Bruce, or at Chandler Drug in Calhoun City. You may also mail your entry to The Journal at PO Box 278, Bruce, MS 38915. All mailed entries must be postmarked by Friday.
You may enter as many entries as you like, but all must be submitted on a ballot from the newspaper. No photocopies or faxes are accepted.