By JOEL McNEECE
L.J. Petty is a simple man. He believes in work, family and church and not necessarily in that order.
Petty, 73, has lived his entire life almost within a rock-throw of where he lives now – west of Pittsboro on CR 200. He actually has a Big Creek address.

"I grew up just down the hill over there," Petty said. We didn't have any electricity down there, just coal-oil lamps. When it rained you couldn't get out of there. There wasn't any road and no truck could get up that hill. Didn't matter, we didn't have a truck anyway.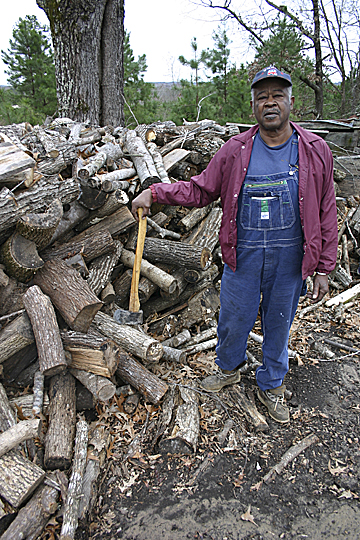 A pair of mules and a wagon worked for us."
Petty is the oldest of 12 children. Today many of them live within eye-sight of his home.
"We're all right around here," Petty said.
Petty and his wife Frances, who was also born and raised around Pittsboro, have been married for almost 46 years.
"We were neighbors growing up," Petty said. "Our mothers would visit with each other and we played together."
"Pretty much known each other all our lives," Frances said.
Practically from the time he could walk, Petty was working.
"Ever since I was a little tot I've been working," Petty said. "Picking cotton, hoeing, soon as I was able my mama set me up on the row and I put in a day."
His father set him in the field behind the mule-pulled planter.
"I would go down the row and then my dad would have to come and get me turned around," Petty said. "I would try to turn it and I would go down, and the mule would drag me and the planter across field."
Frances said she worked in the field as well until around age 15 when she was trained to clean houses. She later went to work at the Glenn Slacks plant in Bruce for more than 20 years and later at Calhoun Apparel in Calhoun City.
Mr. Petty said as soon as he was able to go out on his own he went to work for James Ferguson at his sawmill.
"He was a nice man," Petty said. "I learned a lot working there."
He then got on at Bruce Company where he remained for more than 40 years, ultimately retiring from Memphis Hardwood.
"I started out on the yard learning to set up the kilns," Petty said. "Then they moved me to a stacker. I spent the rest of my time there as a stick layer."
Since retiring the Pettys have tried to slow things down.
"Our biggest activity now is church," Frances said.
She attends Bridges Chapel in Pittsboro, where she has been a member her entire life. Mr. Petty attends his home church of Bryant Chapel, just down the road from the house. Then sometimes they attend Clear Springs, which is just down the road in the opposite direction.
Asked why they attend separate churches, Francis said that's just the way they've always done it. Mr. Petty had a slightly different reason.
"Nobody has to wait on me and I don't have to wait on nobody," Petty said. "I like it like that."
The Petty's home is unique in itself. They bought it years ago in Calhoun City after the town had acquired some property and needed it removed. The Pettys moved it to Pittsboro and have called it home ever since. They estimated the structure to be close to 100 years old.
The home has no central heat and air, nor does it have any wall heaters. The only source of heat is a wood stove in the front room. That's the way Petty likes it.
"The electric and gas heat doesn't keep it warm enough for me and it costs a lot more money," Petty said. "Since the kids aren't around as much anymore, this is all we need."
Their children are Bryant Petty of Vardaman, Rodney Petty of Pittsboro, Charles Johnson of Tulsa, Wendell Smith of Alabama, William Smith of Pittsboro, and Tracy McGuirt of Pittsboro. Tracy is justice court clerk at the county courthouse.
The wood stove provides the simplicity Petty loves.
"It keeps the house nice and warm," Petty said. "It's all I need along with my lights and running water. I don't even need that phone over there."
To keep his heat going Petty keeps a good stock of wood, which keeps him just as busy as he wants to be.
"I used to be able to cut all the wood I would need all year in a couple of days," Petty said with a smile. "I can't get around like I used to, but that's okay. I like to take my time."
It's a slower pace of life, but the Pettys wouldn't have it any other way.
"I come up in the country as a kid," Petty said. "I never cared for the idea of living in town. I'll take the country life anytime."