Calhoun Academy, ranked second in the state in MAIS 8-man football, continued their roll with a 44-24 win over Briarfield last Friday.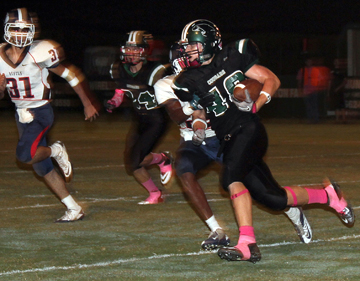 "It was a really good test for us and we responded," Cougar Coach Tim Melton said.
Hunter Harmon was the big difference maker for the Cougars, accounting for five of their touchdowns.
He completed 6-11 passes for 138 yards and four touchdowns and ran 17 times for 115 yards and a touchdown.
"I was proud to see him (Harmon) put us on his back and carry us when nothing else was working," Melton said.
Danny Joe Norman led the backs with 90 yards on 21 carries. Kyle Carter added 41 yards on nine carries.
Devin Northrip was again the top tackler for the Cougars, recording six with a forced fumble and a fumble recovery.
Nathaniel Willis had an interception and Cory Baggett recorded a safety.
"I was really proud of our effort," Melton said. "We just kept grinding all night."
The Cougars will host unbeaten Hebron Christian for homecoming this Friday. The Eagles have outscored their opponents 304-98.
"They will be a good test for us to help us prepare for the playoffs," Melton said.
The Cougars will finish their regular season next week at number one ranked Russell-Christian.
Homecoming festivities this week will include the annual parade on the Calhoun City Square Friday at 1 p.m.
The pregame ceremony will begin at 6 p.m. Friday on the field.