Wet weather has slowed construction progress on the new weightroom facility at Calhoun City High School, but the fundraising campaign is hitting full gear.
Football coach Perry Liles is busy taking orders for memorial bricks and compiling historical info for the wall of honor.
"We're at a point now where we need to get a commitment on all the bricks so we can begin working on the design and get some ordered," Liles said.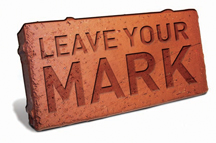 The memorial bricks will be placed in the patio outside the weight room. They can be purchased by anyone, any business, to honor anybody, not just those with football connections.
A "wall of honor" will highlight all of the Calhoun City athletes that played at a four-year college in any sport.
"We need people to help us make sure we know all of those," Liles said. "There's no cost associated with that. We just don't want to miss anybody."
Liles said the goal is to have the building completed by the start of next football season.
The project has a facebook page under the name "Calhoun City Wildcat Wall of Honor."
For more information you may call Coach Liles at 1-662-647-7836 or mail to the Calhoun City Football Boosters at PO Box 492, Calhoun City, MS 38916.
There is a booster club meeting Thursday at 6 p.m. at the field house that's open to all.