Celebrate Coffeeville 2013 will host the North MS Wildlife Exhibit/Show Saturday, Oct. 5 on Front St.
Bring your mounts to the fire station by 10 a.m. to complete in the Big Buck Contest. Categories will be: Best Out of State Buck, Best Mississippi Buck, and Best Buck-Crowd Favorite.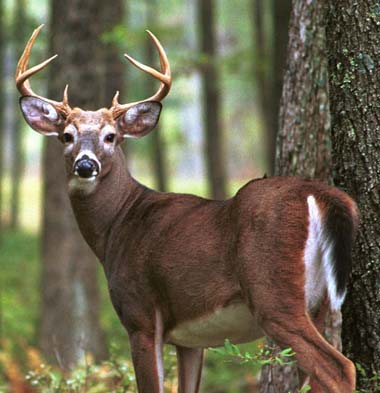 There will also be Best Catch of the Day fish mount, Best Winged Mount and Best of the Hunt mount (any other mount). Everyone is welcome to take part. Prizes and cash awarded to top winners.
Camo Kids Contest will be held at the bandstand at 11 a.m. Prizes will be awarded in categories: 4 and under,  5-6,  7-8, and  9-12. All kids are encouraged to dress up in camo and participate.  Stop by the kids' area for a fun time on the blow-ups and other activities.
The bandstand will be filled the entire day with music from locals, as well as rising star Jacob King and the sounds of Slufoot Louy.
Jackie Nassar, a Ground Zero fave, will entertain the crowd during the Front St. Dance from 6-8 p.m.
Vendors pertaining to anything hunting need to contact the Chamber at 662-675-8385. Spaces are filling up. Wild game meat processors, hunting apparel sales, hunting land realty businesses, hunting motor vehicle sales, and any other related vendor are invited to come set up for the day. Fee is for a 10x10 booth space is $25 or $40 with electricity.
Arts & Crafts and Food Vendor Area continues to fill up. Again, if you haven't called for booth space, you will want to do so right away at 662-675-8385.
Five time National Archery Champion Waldo Cleland will entertain children and adults. Kids will be able to shoot a bow and arrow and watch him shoot.
The Yalobusha Historical Society is making plans for visitors to stop by their facility in the former Presbyterian Church/ Masonic Lodge buildings. Spaces are available for class reunions. You will need to contact the Chamber to reserve a free space if you wish to have a central place for your class to visit.
Celebrate Coffeeville t-shirts will be arriving soon. Cost will be $15. The Chamber will be selling tickets for a gun (a Remington Shot Gun or Remington Deer Rifle) to be given away. Tickets will be on sale prior to October 5 by Chamber members and will be available at the Chamber tent on Celebrate Coffeeville Day. The give-away will be at 6 p.m. just prior to the Street Dance.