Mission Mississippi's "Mississippi Glowing" project, a statewide unity and reconciliation movement, will make its way to Calhoun City this Sunday, Sept. 29 for a celebration service involving churches from all over the county.
Local FCA members will carry a six foot lighted cross from Slate Springs to the Calhoun City Square. The approximate 6 p.m. program will start once the cross arrives.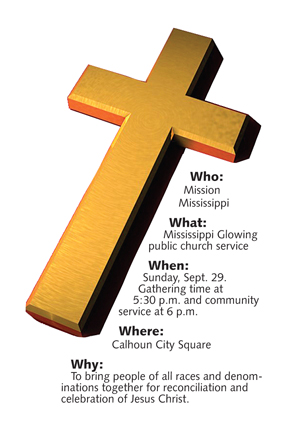 "We've invited 98 churches in the county to come participate," said Rev. Allen Dearing, pastor of Lewis Memorial UMC in Calhoun City. "We have seven different denominations represented in our program."
Calhoun City Mayor J.R. Denton will open the program with welcoming remarks. Others currently scheduled to be part of the program are Rev. Nida Pittman, Bro. Michael Wortham, Bro. John Warren, Danna Johnson and Rev. Dearing.
A gathering time with refreshments to be served is scheduled to begin at 5:30 p.m. as they await the cross's arrival.
The cross began its journey on Aug. 7 and has already visited 50 counties on its trek to cover all 82 counties in 82 days. The cross is being carried across the State as a symbol of unity and reconciliation and in celebration of Mission Mississippi's 20th Anniversary.
Services are held at each stop in an effort to bring people of different races and denominations together to celebrate racial reconciliation and healing.
"I'm looking forward to us bringing together people from all races and denominations around Jesus Christ," Rev. Dearing said. "Jesus is a uniter not a separator. Our enemy is Satan, not each other."
Bill Buckner, Regional Director for Fellowship of Christian Athletes (FCA), is excited to join with Mission Mississippi in the endeavor and stated,
"Mississippi Glowing For Christ fits well with the vision of FCA, to impact the world for Jesus Christ through the influence of athletes, coaches and all whom they influence. We are excited to partner with Mission Mississippi and take the cross to 82 counties. When the Lord Jesus is lifted up He will draw all men to Himself."
Fellowship of Christian Athletes (FCA) students will walk/run the cross through Calhoun County. It will enter the county at 2 p.m. on Sunday. As the cross approaches the square, the public is invited to join in the walk.
"It is the prayer of FCA and Mission Mississippi that as the cross is greeted in each county, the time there will bring the Body of Christ in each county and community closer together," Neddie Winters, President of Mission Mississippi said. "We want to invite Mississippians to follow the cross as it comes through their county, participate in the planned celebrations and unite with others at the Statewide Celebration and Worship on Oct. 27 (at Veterans Memorial Stadium in Jackson). Join with us in celebrating 20 years of 'Changing Mississippi – One Relationship at a Time' and the unity we have as One in Christ."
Rev. Dearing said efforts have been underway for several months to establish a ministerial alliance in the county among all Calhoun churches of all denominations.
"We've been gathering for a little while now, but are really hoping to use the Mission Mississippi event as a springboard for our local efforts," he said.
The first official meeting of the Alliance is tentatively scheduled for Oct. 21 at 6:30 p.m. at Grace Fellowship Church in Calhoun City off Hwy. 8 where the former grocery store was located.
Dearing said they are currently planning a countywide Thanksgiving service to be held at the multi-purpose center in Pittsboro.
"We're hoping churches will join with us and help us bring everyone together," Dearing said.
The alliance intends to have a signup booth for local churches at the Mission Mississippi event on the square.
Mission Mississippi began in October 1993 with the raising of a 20-foot cross at Mississippi Veterans Memorial Stadium in Jackson.
Originally, it was intended to be a one-time event, not a movement.
"We thought we'd solve all the problems of race from the past 400 years at one event, but it became apparent in the planning process that we wouldn't," said Mission Mississippi board member Lee Paris. "So a group of us formed the organization, and we've been systematically working on it for 20 years."
For more information about Mission Mississippi or Mississippi Glowing, visit www.-missionmississippi.org or call 601-353-6477.