Summer fun continues at Jesse Yancy Memorial Library in Bruce!  On Monday, July 7, MDOT will present"Think Green, Keep Mississippi Clean" with Myrtle the Turtle.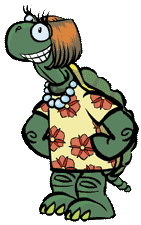 The program begins at 1:30. Come earn your MDOT "Litter Patrol Badge"
Also, be sure to join us for a Movie & Craft Party on Tuesday, July 8 from 2-4:30 p.m.. We'll provide the popcorn & drinks. Movie rated PG. Children under 8 must be accompanied by an adult.
This month's movie: "A fearless optimist teams up with an outdoorsman in an epic journey, encountering Everest-like conditions, and a hilarious snowman in a race to find her sister, whose icy powers have trapped the kingdom in eternal winter." Can you guess the movie?
Following the movie, we will make a small craft.
Movie Parties are sponsored by Friends of the Library.
For more information, call the library at 983-2220 or check us out on Facebook at "Fans of the Jesse Yancy Memorial Library."