By JOEL McNEECE
Calhoun County had its share of top moments in sports in 2009, including two state championships.
By JOEL McNEECE
Calhoun County had its share of top moments in sports in 2009, including two state championships.
Bruce High School sophomore T.J. Morgan won the Class 2A State Championship in golf at Forest Country Club.
Morgan shot a 77-69-146 to earn the title.
In its first season to compete in powerlifting, Calhoun City also brought home a state title. The Wildcats won the Class 1A title with a near perfect season.
"This powerlifting team improved tremendously over the season," coach Perry Liles said. "With so many young athletes, you never know how they are going to respond. We did a great job in getting 12 lifters qualified from the region to the north half and then to the state meet. This is what won it."
Two other Calhoun County athletes earned gold medals at the state track meet. Vardaman's Jicobe Jones and Calhoun City's Demarius Howard both took first in the Class 1A Triple Jump.
There were two other trips to state during 2009 for Calhoun County athletes.
Bruce High School tennis player Danny Miller earned a trip to the Class 2A State Tennis Tournament.
The other came in basketball from Calhoun City. The Wildcats advanced to the Final Four in Class 1A at the "Big House" in Jackson before being eliminated by Myrtle. Dylan Turner, Demarius Howard, Tabarrius Coffey, J.R. Jennings and Charlie Easley were among the leaders on the Final Four team coached by Darren Coffey.
The Bruce boys basketball team was defeated in the second round of the North Half Tournament. Shaunvanta Ingram, an Alcorn State signee, and Marcel Gaston led the Trojans to the successful season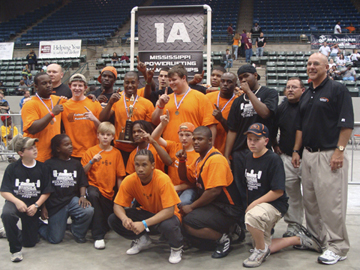 .
The Lady Trojans also advanced to the second round of North half before being eliminated. Quita Welch, Jasmine Hampton, Morgan Vickery and Shevante Welch led the Lady Trojans on their run.
Calhoun Academy's Lady Cougars were eliminated in the opening round of Class A North Half by Sharkey-Issaquena. Brittney Sutherland and Kelci McCormick led the Lady Cougars in their season.
Vardaman's boys and girls were both eliminated in their region tournaments. Sergio Prescott led the boys in scoring all season. Kelsey Nelson and Rasheika Thompson led the Lady Rams.
Ebony Williams earned many honors for the Calhoun City girls, who were eliminated in their region tournament. Williams later signed with ICC.
In softball, the Vardaman Lady Rams had a strong season advancing to the Class 1A North Half semifinal where they were ultimately beaten by Houlka. Kelsey Nelson starred on the mound for the Lady Rams who enjoyed the most successful season in program history.
The Bruce Lady Trojans were beaten in the first round of the Class 2A playoffs by Ackerman. Taylor Moore, Cameron McCormick, Morgan Edwards and Mollie Hellums finished as the Lady Trojans top hitters.
In baseball, Calhoun City made it all the way to the Class 1A North Half semifinals before they were eliminated by West Union. Tyler Gray, Raheem Roberson, Jarvis Rounds, J.R. Jennings and Josh Warren all had strong performances in the Wildcats' playoff run.
The Bruce Trojans were defeated in the second round of the Class 2A playoffs by Belmont. They swept Riverside in the opening round. Blake Peden and Caleb Hanley were among the Trojan leaders.
Greenville St. Joe knocked out Vardaman in the opening round of the Class 1A baseball playoffs.
2009 concluded with the football season where all three public schools made another trip to the playoffs.
Vardaman went the deepest with a berth in the Class 1A North Half Championship game where they were defeated by Durant. The
Rams finished their season with a 9-4 record.
"Nobody gave our team a chance to get this far," Vardaman Coach Justin Hollis said. "It's a credit to our kids and their character. I'm very proud of them."
The Rams top performers included Donta Walker, Chris Armstrong, Arsenio Lee, Markus Kimble, Jonathan Haire, Jamie Jenkins, Steve Boyd, Gunner Lishman, Jeremy Penson, Cody Jenkins, Octavious McKinney, and Willie Lee.
Calhoun City's football season ended in Cumberland with a second round playoff loss against East Webster. Top players for the Wildcats included Aaron Thompson, Tevin Hall, Rokedrick May, Toney Armstrong, J.R. Jennings,  Avery Hill, Raheem Roberson, TJ Clanton, and Demarius Howard.
The Bruce Trojans were knocked out in the first round, but not until after giving top-ranked West Bolivar all it could handle. Top performers for the Trojans during the season were BJ Daniel, Codie McMahan, Demetris Evans,  Wiley Maddox, Nick Smith, Shaq Bush, Trent Spratlin, and Justin Green.
Calhoun Academy finished its season winless, but it wasn't all bad.
"We didn't get the wins, but we did some good things this season," Cougar Coach Jeff Dalton said. "It's tough to compete against teams with a lot of seniors when you're playing mostly ninth graders."
Earning post-season honors for the Cougars were Danny Joe Norman and Alan Woodcock.