Greg Bray has come full circle, pastoring a church in the same church building he was "raised and saved" in.
Lighthouse Baptist Church is located just east of Bruce in what was once Calvary.
"Most of our people were raised here at Calvary Baptist Church," Bray said walking through the sanctuary that's still being renovated after what many thought was a devastating fire in December 2015.
"That fire was more of a blessing than it was a hurt to us," Bray said. "People don't understand that. Fire purifies. It's amazing. The church has done good. We've had good attendance. Everybody's had a good heart about it."
"The day after the fire, our congregation doubled because people came," Bray said. "People that weren't in church came because they wanted to help us and they've been coming ever since."
They've been holding services in the fellowship hall, averaging around 25 each Sunday.
Lighthouse was founded in 2001 after Bray was approached by several who had been driving long distances to churches in other areas.
"They asked if I would be interested in starting something," he said. "I felt it was the door opening to do it. We met in the Church of Christ building next to the Bruce Post Office. We met there a few times and made the decision to meet in my mom and dad's carport and go from there."
They built a building on the Pleasant Ridge Road just across from the Chickenbone Fire Department where they met until purchasing the old Calvary Baptist Church building.
"This land had reverted to the previous landowners and they contacted our church about buying the property, because they wanted the connected cemetery to continue to be maintained," Bray said.
Saved at the age of 15, Bray was 19 when he surrendered to preach and started pastoring not long after that in 1985.
Bray grew up singing in church and was appointed music director at Calvary by Bro. Jim Hall when he was a teen.
"I love music and sang in church all the time. I thought that's what I was supposed to do," Bray said.
He was teaching a Sunday School class – "a teenager teaching teenagers," he called it when he "couldn't get away from the feeling of meant to preach."
His first pastorate was at New Hope Baptist Church in Yalobusha County. He moved to Turkey Creek Baptist Church a couple years later and then to churches in farther North Mississippi while he attended Blue Mountain College.
He and his wife Michelle lived at Myrtle for 15 years, where his father-in-law was pastor. They commuted to Chickenbone after founding Lighthouse and when the church acquired the former Calvary building they turned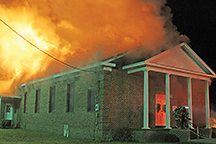 the small church building at Pleasant Ridge into a house and moved here.
Bray said the church has remained debt free while renovating the building and can't wait to get into the new sanctuary.
"I think we pretty much have the money to do most everything except our heating and cooling," Bray said. "We've got people that can do a lot of things, but that's a big expense. We're just trying to get it done as quick as we can. When we have the money, we get together and do all we can do."
And they do everything together and do it well, he said.
"Every pastor should feel like they have the best church, but we've never had any disagreements here," Bray said. "Even as people started coming in to the church, they were in agreement with everything we were doing. We all work together really well. This has been a great blessing."