The Calhoun City Lady Wildcats defeated the Bruce Lady Trojans 9-6 Wednesday night to earn the region title and a first round bye in the playoffs.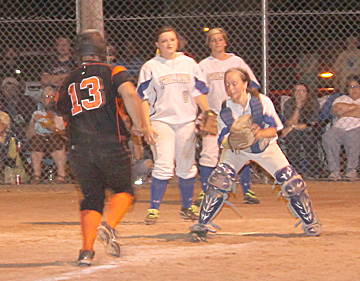 Avery Bullard led the Lady Wildcats to the win pitching the final 5 innings during which she allowed only one hit and one earned run.
Alison Childs and Courtny Norman were offensive stars for the Lady Wildcats.
Childs had two singles and two runs batted in.
Norman hit a single and a double and drove in a run.
Morgan Ellard had two hits for the Lady Trojans.
The win finished the regular season for the Lady Wildcats at 11-10.
They will begin post season play April 26-27 against the winner of this weekend's Hamilton/New Site series.
The Bruce Lady Trojans open the playoffs Friday, April 19 with a doubleheader against Coahoma County. The winner of that series will advance to face East Webster April 26-27.
Photos by Celia Hillhouse