By JOEL McNEECE
Genna Grace Edmondson threw a no hitter as the Lady Rams shutout TCPS 17-0 Tuesday night.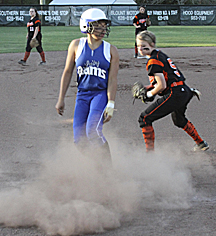 Edmondson, who improved to 2-4 on the season, pitched all three innings. Vardaman scored six in the second inning and 11 in the third to earn the win.
Cheyenne McKiney and Whittney Gee both had two hits for the Lady Rams. Gee's two hits were a double and triple.
Vardaman traveled to Calhoun City Thursday and pulled out a late game rally for a 6-4 victory.
Trailing 4-2 entering the seventh inning, Brianna Wright reached on an error and then scored on a double by Ashley Wooten to cut the deficit to 4-3.
After Whittney Gee drew a walk, Edmondson hit a two-out double over the center fielder's head, scoring Wooten to tie the game at four.
McKiney then hit a single up the middle two score both runs for the 6-4 lead.
Edmondson, 3-4, shut down the Lady Wildcats in the bottom of the inning to preserve the victory.
The Lady Rams got beat 11-2 by East Webster Saturday.
They surrendered seven runs in the top of the sixth that blew the game open.
They followed that with a 5-0 loss to Starkville.
"We didn't play well at all in that one," Coach Billy Dill said.
The Lady Rams are 5-8 on the season and will host Calhoun City Friday night at the Vardaman Sportsplex.