Calhoun Academy Lady Cougars defeated Central 59-40 Tuesday night in a play-in game for the district tournament.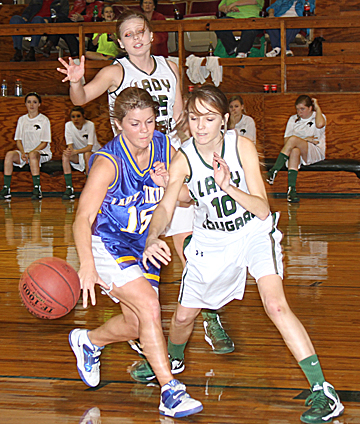 The win guarantees the Lady Cougars a spot in next week's district tournament in Mathiston and in the North State Tournament the following week at Calhoun Academy.
The Lady Cougars will now face Winona Friday at 4 p.m. in Mathiston.
The Cougars will face Hebron Friday at 8:30 p.m. Pictured is Hunter Robertson punching the ball free in Tuesday's win over Central.
In the background is Lady Cougar Miranda McCormick. Anna Grace Turner and Regan Hubbard led the Lady Cougars with 21 and 20 points respectively.
Photo by Celia Hillhouse