By LISA McNEECE
A.D. Blount told the Calhoun City Rotary Club their new children's furniture manufacturing company "Kidz World" has far surpassed their expectations and they expect it to continue.

Blount, founder and CEO of Med-Lift in Calhoun City, said they expect Kidz World to be larger than the 20-year-old Med-Lift in two years.

Kidz World was started by Blount in the spring when he said he saw a void in children's furniture only being sold by the truckload to big box stores.
"Mom and Pop outlets wanted them in their stores as well," Blount said.
Within two weeks of the idea, he got the ball rolling.
With the help of city leaders, he was able to get a grant to turn the old Kellwood warehouse building into what he needed to make the furniture.
Kidz World now produces more than five styles of chairs along with chaise lounges, skirted benches, ottomans, storage boxes, head boards and video rockers.
The furniture is made with the same materials as adult counterparts– only on a smaller scale.
"The quality is the same," Blount said.
Blount introduced his daughter, Alison Nichols, president of Kidz World, son-in-law Justin Nichols, vice-president of manufacturing at Kidz World and MedLift, and Chris Lee, Kidz World manager.
Alison Nichols said the company had started off quickly with more than 380 active customers now, just three months after production started.
She said some of their top sellers are licensed products– such as Nickelodeon's Dora, Diego and SpongeBob fabrics. They are also licensed to use Marvel's Spiderman, the National Football League, Major League Baseball, the National Hockey League, collegiate patterns, and Mossy Oak and are working on the Mexican soccer league and John Deere.
In addition to the licensed products, they also have a variety of  generic fabrics, such as polka dots, stripes, paisley, dogs and solid colors.
Chris Lee said actual production started in mid August with 18 employes producing 75-100 pieces a day.
"Our goal was 250 a day, and in three to four weeks, we reached that goal," he said.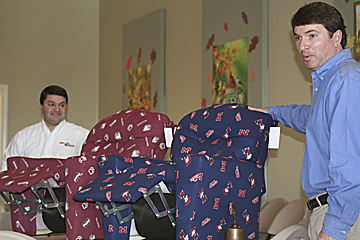 After large orders started coming in October, another line was added at the plant.
"Now we have 50 employees and put out 500 pieces per day. We are now running six days producing 3,000 pieces a week, not stock, but sold items," he said.
Projection for next month looks good as well. Blount said since most of the furniture is sold to Mom and Pop stores, there is more of a year-round demand.
Blount brought several pieces of the furniture to show to the group. The club chair and sleep-over (which folds out to a sleeper) are the most popular, making up 90% of their orders.
Kidz World also has room to expand at their location. Justin Nichols said they have room for 3-4 more lines depending on the style.
Blount expressed thanks to city leaders and employees for helping to get the plant off the ground.
'I've always believed in supporting my community. A lot of Mississippi towns offered us buildings, money, incentives, etc. but I just like Calhoun City. There were a lot of good reasons to put this plant in Calhoun City," he said.
Blount also praised the work force in this area. "A lot of them had furniture manufacturing experience and had been laid off of work," he said.
Another plus for the community is that Kidz World also uses a local supplier for furniture frames.
Blount said several people had questioned him starting a business with the economy in a downturn.
"I decided that we were just not going to take part in the recession," he said.  
At the conclusion of the meeting, Rotarians were invited to tour the plant.