By JOEL McNEECE
Kathy McRight has battled constant lung infections, severe sinus distress, and earaches all her life to the point that she's had dozens of surgeries. But it wasn't until just a couple of years ago she learned the cause – a rare disease called primary ciliary dyskinesia (PCD).

"I just turned 41 years old and my diagnosis of PCD came when I was 37," said McRight, of Calhoun City. "But my illness started at birth."
McRight's husband Stephen is the minister of music at Derma Baptist Church. They both said dealing with PCD has been a constant learning experience.
"We had never heard of PCD," Kathy McRight said. "It's such a rare thing, but so many people have it and don't know they have it."
McRight,  a native of Florence, Alabama, said it all started from the first day of life for her. She aspirated at birth – the act of inhaling fluid or a foreign body into the bronchi and lungs. That caused pneumonia and a several month stay in the hospital through her first Christmas.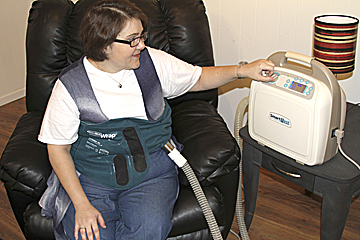 "At an early age, I fought ear infection after ear infection and this started me on my journey for many sets of tubes beginning at the age of five," McRight said. "By the time I was seven, I had double sets of tubes in each ear. The only problem was the fluid in my ears would push the tubes out within six weeks or less."
Her sinuses were causing all of the fluid build-up which led to the first of many surgeries to "strip her sinuses."
She was fitted with hearing aids at age 11 due to the nerve damage caused by the large number of surgeries.
She was labeled by her ENT doctor as "a book case" at age 17.
One surgery was intended to "rebuild" her eardrums, but once they were cleaned off during the surgery doctors determined that was enough to get them working.
Cold-like symptoms kept her at the doctor's office throughout her 30s with bronchitis the most common diagnosis.
"Then one night I was getting ready for bed and started having a hard time breathing," McRight sad. "My husband took me to the emergency room where I was diagnosed with pneumonia."
She was referred to a pulmonologist where a CT scan showed severe bronchiectasis and a "nasty bug" in her lungs and sinuses.
In December of 2007, she was sent to National Jewish Hospital in Denver to get a confirmed diagnosis of PCD. She was there for two weeks during which a portion of her lung was removed because it was dead from all the infections. McRight was sent to the University of North Carolina PCD research for further confirmation of her disease.
"It's been nearly four years since my diagnosis and I constantly fight bacterial infection and spend a lot of time in the hospital," McRight said. "Having finally been diagnosed has been a relief and it is my prayer that no one else has to go through the years of pain I went through."
PCD isn't a noticeable disease for people who see McRight, but they can't see the treatments she endures to manage the disease.
McRight has a port where she takes medication daily. Her body is resistant to most antibiotics, however, because she has had so many over the years.
She puts on a "SmartVest" for 30 minutes each day that squeezes her like a blood pressure device and also vibrates fervently to help push buildup in her lungs upward so she can cough it out naturally. Her daily medicinal routine for PCD can take up to two hours.
Like clockwork, once every six weeks she's admitted to the hospital to undergo a bronchostomy to wash out her lungs.
"Weekends in the hospital are pretty normal for us," McRight said. "The hardest part of it is our children. It's tough for them."