By JOEL McNEECE
Karen Norman, of Big Creek, loves Civil War history, but it's not the battles at Vicksburg, Gettysburg, Bull Run or Shiloh that fascinate her. It's the people.

"I want to know what happened to them," Norman said.
She's found out what happened to hundreds, if not thousands, of them through her research with the Calhoun County Historical Society.
She traced her family, for example, back to John Isaac Adair of South Carolina who was killed at his home by Tories during the American Revolution in 1781 while on furlough. His wife Ruth Greer and three children escaped.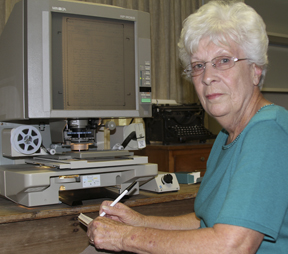 Norman said Adair was a native of Ireland, but she hasn't taken her research back any farther than that.
The joys of the genealogical research for Norman isn't limited to her own family, however.
"Once someone says they want to know something, then I want to know everything," Norman said. "It's something I love. It's like being a detective trying to figure things out."
Recently she assisted a woman from Wisconsin who came to Pittsboro to research some of her ancestors. Norman helped her trace her history back to a slave.
"It's amazing what you can find in genealogy," Norman said.
She's done extensive work on the Calhoun County soldiers who fought in the Civil War.
"I've been to every place where a Calhoun County (Civil War) soldier has been except for Ship Island where some were held as prisoners of war," Norman said.
Norman credited Imogene Springer with inviting her to a meeting nearly 20 years ago where an effort was underway to establish the county historical society. Norman has been hands-on ever since, leading the effort to record and file the giant collection at the historical society's Murphree House in Pittsboro. The Murphree House is the original home of Dennis Murphree, who served Mississippi as governor in 1927 and 1943.
"When I volunteered I never dreamed we would accumulate so much stuff," Norman said.
Several rooms of filing cabinets and shelving units that stretch from the floor to the ceiling contain family histories; cemetery records; most obituaries from Calhoun County from 1919-2004; census records; agricultural census records; marriage records; lineage charts; church histories; files on schools, towns and communities; tapes and books from Ken Nail's oral history of Calhoun County; Civil War letters; pensions for Civil War soldiers; funeral records; microfilms of old newspapers including the Dixie Herald, Calhoun Monitor, Calhoun Courier, Bruce Times and Calhoun News; and much, much more.
"The collection of history and information we have here for a burned-out county is excellent," Norman said.
The "burned-out county" is in reference to the Dec. 22, 1922 fire that totally destroyed the Calhoun County Courthouse and virtually all of its records.
There are additional history collections on file at the Murphree House that were donated by Cora Van Johnson Boyles, Clara Hill, Ila Anglin, Victor Ellard Jr., Leila Murphree Parker, Margaret Funderburk Willis, Tressie Hollis Powell and others.
"It's amazing what you find in these histories," Norman said. "A lot of times you are researching something and discover things unrelated that are great finds."
Norman pulled out a store log from the Slate Springs Gin dated 1928 and flipped through the pages filled with hand-written notes.
"It's amazing what you find in here," she said.
She routinely assists with the genealogy work required for membership in the local Daughters of the American Revolution (DAR) and Sons of the American Revolution (SAR) organizations.
"We never send anyone away without something," Norman said.
The historical society publishes a newsletter for its members and also has several publications it continues to sell to the public. The most popular remains "Calhoun County Mississippi – A Pictorial History" published in 1997.
"That book is still the main source of income for the historical society," Norman said. "It covers the utilities here."
Meanwhile, Norman continues diving into the donated history that continues to pour into the society.
"I still have a lot to go through and get recorded," Norman said. "It's something to look forward to."