The Calhoun County Journal won ten awards including two first place in the Mississippi Press Association's Better Newspaper Contest.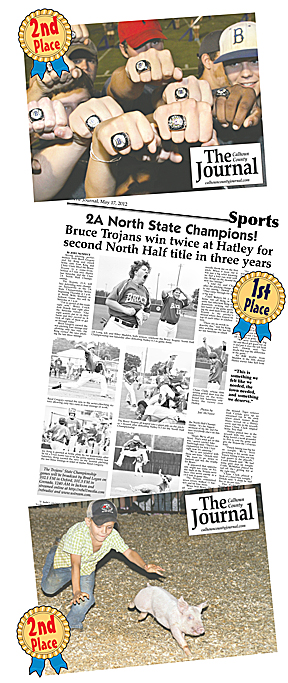 The Journal competes in the division of the largest weekly newspapers in the state.
Joel McNeece won first place Best General Interest Column. McNeece's entry included three columns– the Rotary Christmas basket column, one on "Life With Jack" and one on the tamale trail.
He also won first place Photo-Story combination with the Bruce Trojans North State Champions game story and photos.
McNeece and Celia Hillhouse also won 3rd place in this category with the story of two children killed in house fire west of Bruce.
Other wins for McNeece were:
•Sports Feature Photo 2nd place– photo of Bruce baseball team members showing their state championship rings
•Sports Feature Photo 3rd place– photo of J.B. Long and Wiley Maddox post-game at North Half
•Spot News Photo 2nd place– photo of The Hair Bender fire
•Feature Photo 2nd place– Greased pig scramble photo
•Personality Portrait 3rd place– photo of Lane Dickson
•Spot News Story 3rd place– story of tempers flaring between Bruce police chief and alderman
Joel and Lisa McNeece won 3rd place in the Best Graphic division with a graphic of twitter responses from Calhoun County students on school lunches.
The awards were given at Mississippi Press Association's 147th annual convention last week. McNeece serves as vice-president of the association.