Jerry Bryant will never forget the day he received a call saying, "We have a party hung on the commode."
"I had to listen to it a second time," he said. "I thought surely I misunderstood what they just said."
Jerry was a lieutenant fireman with Engine No. 15 in Memphis when he responded to the call.
"I got there and a lady met me at the door and I asked 'what have we got?' She said, 'My friend has her hand stuck in the commode.'"
It was an older house, Jerry said, and the sink and commode were separated by a partition, and the lady more than filled the tiny space.
"I couldn't even get in there to see what was going on. Turns out she was flushing out a baby diaper. (That was when people still used cloth diapers.) It sucked it out of her hand and she reached in to try and grab it and got her hand stuck. I took my coat and helmet off and managed to push her legs to the side enough that I could crawl through to the commode. They had poured in two or three boxes of washing powder trying to get it slick. I managed to put a little pressure and pull her hand out and she just collapsed. She had been stuck for several hours."
"The first thing she told me was, 'don't tell my husband.' Turns out he was a fireman with one of the other departments."
Jerry was raised in the Pittsboro area, the son of Bill and Marie Bryant. His father was a farmer and a night watchman at Glenn Slacks and E.L. Bruce Company. He later got into politics and served the county as circuit clerk.
Jerry was one of 10 children – J.C., Carroll David, Don, Billie Bollinger, Mildred Spratlin, Karla Vanlandingham, Sue Stone, Della Vanlandingham and Debra Worsham.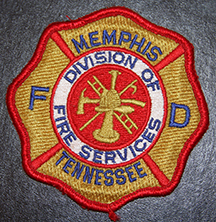 J.C. and Don and two of Jerry's brothers-in-law also served as firemen in Memphis.
"I can't explain it," Jerry said of the firemen lineage in his family.
Jerry went to school at Pittsboro until his senior year when the school consolidated with Bruce.
He played basketball at Bruce and fondly recalls his team placing third in the state.
"We had a fairly good team with Danny Caldwell, Ed Easley, Robert Bracken and Eugene Hollis."
Jerry graduated from Bruce in 1956 and then went to Chicago for a time where he worked at a boiler company.
"I cleaned boilers. I would crawl through a little hatch and clean them on the inside. When I got through and came home each day I was solid black from head to toe. It paid good, but it was a dirty job."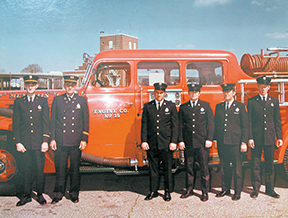 Jerry came back to Calhoun and briefly played basketball at Wood Junior College where his brother J.C. was.
"He had gotten out of the Army and was going to school on the G.I. Bill," Jerry said. "He called me up and said 'why don't you come down here and go to school?' I went to see my principal, Brad White, and he said he could get me a scholarship. All they had available was a half scholarship, so I took that and worked a little bit in the cafeteria. But I didn't stay long. School just wasn't for me."
Jerry came back home and soon after was called into the service. He served for six years total, including a year in Korea.
After getting out of the service, J.C. came calling again and convinced Jerry to come to Memphis and become a fireman. J.C. became a Memphis fireman in 1958.
"He was in love with it, so he helped me get on. He was driving for his captain at the time."
Memphis had a one-year residency requirement for firemen at the time so Jerry and his wife Carolyn moved to Memphis in 1961 and he found work in the Wonder Bread Bakery. That created some issues, however, in trying to land a position with the fire department.
They had a weight requirement of 160 pounds, but the extreme heat of working in the bakery caused Jerry to struggle to keep weight on.
"I was only weighing 143 pounds at the time. I had weighed 160 pounds when I came out of the service, but I lost a lot of weight in that bakery. So I put lead in my shoes and pennies in my pockets, and I still couldn't get up to 160 pounds. They eventually waived it because they knew with my height, once I got out of that bakery I'd put the weight back on."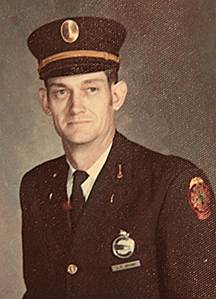 Fire academy training is known to be incredibly rigorous, but Jerry said it wasn't too daunting for him.
"I grew up on a farm and had always been active, so it really wasn't that difficult for me. I think the mental part was more challenging for me than the physical."
One of the physical tests was to climb a 50-foot ladder doing a "church raise," meaning the ladder is just standing straight up, not leaning on anything. Firemen were required to climb to the top and lock their legs through the rungs and lean back with arms extended. Then you had to crawl over the top and down the other side.
"That was different. It would make your blood pressure go up a little bit. But I wasn't afraid of heights, so it didn't bother me too much."
Jerry began his career as a fireman at a station on Main Street in downtown Memphis. He stayed there for three years before that engine house was torn down, and they moved it farther north. He stayed in the northern portion of the city for the next eight years where he was promoted to driver, or what they called a "buggy boy."
A "buggy boy" was an aid to the fire chief. You assisted him with all the department paperwork and drove him around in the red fire chief car.
"My chief was Elmer Martin, and he was always insistent on getting to the scene before anybody else. I drove for him going 100 miles per hour down city streets. I'd never have ridden with him if he was driving the way I was driving. It was entirely too fast, but he never once told me to slow down."
Jerry eventually made lieutenant and was assigned to Engine 15. Eight years later he was appointed captain and assigned to a company out in Frazier for a year before being brought back into the "north end" (northern portion of Memphis) for a few years where he made district chief.
"About the only place I ever worked was in the ghetto. They kept me in the ghetto pretty much my whole career except that one year in Frazier. That was typically the hotter area, where all the action was. That's what most firemen want, to be where the action is, especially when you're young and dumb. You want to fight fires. I enjoyed it."
The first big fire he responded to was at the Falstaff Brewery in downtown Memphis.
"Once we got on scene it was burning pretty well. I remember they had those big kegs of beer, and they would explode. The pressure would blow out a huge blue flame. It was pretty. We fought it for a few hours before we got it under control."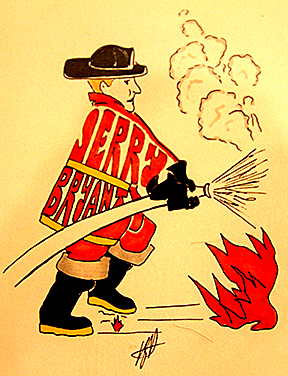 The life of a full-time firemen was very structured. Everyone was assigned a watch. Day watch lasted from 7 a.m. until 7 p.m. and then you were relieved by others who were on watch from 7 p.m. to midnight, then midnight to 3 a.m. and then 3-7 a.m.
"Our typical mornings involved a lot of cleaning of equipment, especially if they made a run the night before. Then you could get ready for lunch. We cooked all our own meals and we had school all the time."
"Territory school" was the biggest test.
"You had to know the fastest route to any address instantly. We constantly trained on that."
Jerry experienced numerous changes in technology throughout his career – from the "small, filter-type mask" he started with to the self-contained mask.
There were huge upgrades in the quality and protection offered by the turnouts (firemen's suit) and especially the helmets.
"We started with the little aluminum helmets and when you got into a hot fire they would burn your ears real bad."
Safety was the biggest improvement, he said.
"When I first went on they would run you into a burning building with no thought whatsoever. It was years later before it was ordered you never go into a building without a buddy and a mask on."
The alarm system was another big change. When Jerry began his career all the fire calls came on the phone.
"We had a fire phone and you would hear one long ring. When you heard that you knew you had a fire, and you picked it up and wrote the address and everything down as they told it to you over the phone."
"It unnerved me when I first went on and you heard that long ring, especially if I was on watch. Then we went to a box system where they put boxes all over the city and citizens could pull those boxes and we had a ticker tape in the engine house that would give us the address. But we got so many false alarms. Kids would go by and pull them, and any of the boxes close to a beer joint, the clowns would stagger out and pull them at 2-3 o'clock in the morning just to see the fire truck pull up."
"We finally got an alarm system in the engine house where they could talk to you over the radio. That was an important upgrade."
One of the more dangerous fires Jerry ever fought was the old cotton building on Front Street.
"We had it contained outside, but it was still rolling inside. We had gone inside and the roof was starting to give way because we had thrown thousands and thousands of pounds of water on it. I went up the stairway to the second floor and the ceiling was sitting on the door. That was all that was holding it up. I got out pretty quickly."
"The only true backdraft I ever witnessed was another Cotton Exchange building on Front Street. It was a two-story building with a basement and sub-basement. It had been burning quite a while before we ever got the alarm in the early morning hours. That fire was the most lines the Memphis Fire Department had ever laid. The lines were knee deep on Front Street."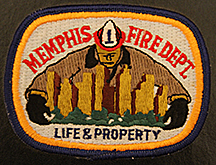 "We had gone down to the basement to try and get to the fire and the lieutenant sent me back up to get something off the pumper. As soon as I hit the street that thing blew, sending glass across Front Street against the buildings on the other side. I just knew my lieutenant and those other boys were trapped, but they had just gotten out before it blew. I don't guess I had enough sense to be afraid at the time."
Jerry recalled getting trapped in an apartment one time.
"It was a second floor fire and I was laying lines up stairs. I went through a door and left it open but when I was trying to get back out I couldn't find it. Somehow the door had closed behind me. I was just feeling along the walls searching. It seemed like it was forever, but I probably wasn't in there more than 15-20 minutes before I finally found the door handle and got out."
The buddy-system came through when he got caught inside a nylon net factory during a second alarm fire.
"They raised us up and we entered through a second floor window. We fought that fire for hours and hours. I was hanging on the coattail of my buddy as we were trying to work our way back out. We couldn't see anything, but he managed to get us down a stairway and back out."
"I can't recall a lot of times that I felt I was really in a lot of danger. We took a lot of punishment, but I never had the feeling I was in danger. There again, I probably didn't have enough sense to know the difference."
Being a fireman had become who Jerry Bryant was.
"Even after more than 33 years I didn't think I could retire. The fire department could do without me without any trouble, but I couldn't do without the job. I enjoyed the department that much. I was afraid I couldn't make it without it."
His wife Carolyn Hipp Bryant, whom he first met at a 4-H camp while the two were in school at Bruce, had booked a trip to Alaska. Jerry decided he would go on the trip and try to retire.
"It wasn't easy," Jerry said.
Jerry and Carolyn, who writes the Shady Grove News for The Journal, moved back to the Shady Grove Community in Northwest Calhoun County in 2002.
"We always planned to come back home at some point," Carolyn said.
They bought the farm originally owned by her great grandparents, John and Betty Hipp, and built a house there. The Bryants will celebrate their 55th wedding anniversary this year.
Their daughter Charlotte and her husband Greg Gann live just down the road from them, and their son Chris still lives in Memphis.
Jerry and Carolyn operated a side business mowing nearly 50 properties in Memphis, another job his brother J.C. initially got him involved with, for more than 20 years. They even mowed the grass at Weyerhaeuser in Bruce after moving back to Calhoun County.
They gave all that up two years ago when Jerry injured his neck in a 4-wheeler accident. He's mostly recovered now and enjoys long walks around their property and visiting friends and family often.
"We love to entertain," Carolyn said.
Their home is filled with family artifacts and all kinds of items recalling Jerry's career as a Memphis fireman.
"I don't know any other career that I'd rather had. Of course the money wasn't great, but I can't think of anything else I'd rather done. I loved every single day."