The Bruce Trojans fell to 4-2 on the season after a 21-6 loss at Houston Friday night.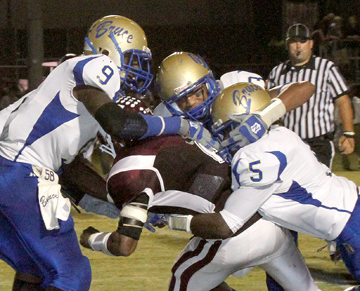 Bruce's only touchdown of the night came on a 62-yard touchdown pass from Davis Brown to Jay Johnson with 11 minutes left in the game. The snap on the extra point was missed.
"We never had time to throw the football," Bruce Coach James Ray said. "We had plenty of things open. We just didn't have time to get it there."
Houston scored late in the second quarter on a 13-yard touchdown run by QB Sharone Wright to take a 7-0 lead at the break.
They stretched it to 14-0 in the third quarter when Brandon Townsend broke loose on a 30-yard touchdown run.
Their final score came on a 20-yard interception return for a touchdown by Gavin McQuary.
Two times Bruce drove inside the Houston 20-yard line and failed to get points. Another possession they penetrated the Hilltopper 30-yard line and ended up punting after a Chris Jones sack, one of five he had in the game, and two Trojan penalties.
"We had too many missed opportunities," Bruce Coach James Ray said. "We had three scoring opportunities we didn't take advantage of. We have to figure this out. We can get better. We can respond. We just have to take care of ourselves."
Bruce opens region play next Friday when they host Walnut for homecoming.