Anyone in Calhoun County needing to dispose of old paint, aerosols, cleaning liquids, car batteries and other hazardous materials can do so Saturday, April 13 in Oxford.
Three Rivers Planning and Development, in cooperation with the City of Oxford, Lafayette County and the Mississippi Department of Environmental Quality, will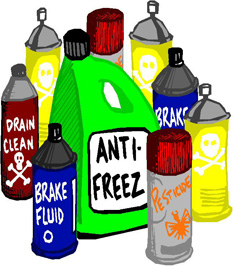 host a "Household Hazardous Waste Collection Day" Saturday, April 13 from 8 a.m. - 3 p.m. at the Armory parking lot beside the Oxford Conference Center on Ed Perry Boulevard, just off Hwy. 7.
There is no charge to dispose of items at the site for residents in Calhoun,  Lafayette, Pontotoc, Itawamba, Monroe, and Union counties.
No commercial waste will be accepted, only household hazardous waste.
Among the items that will be accepted are: Aerosols, All-Purpose Cleaners, Ammonia, Anti-Freeze, Brake Fluids, Batteries (home/car), Lighter  Fluid, Chlorine Bleach, Computer/Electronic Waste, CFL's (light bulbs), Detergents, Disinfectants, Drain Opener, Engine Fluids, Fertilizers, Furniture Polish, Gasoline, Gas Additives, Glass Cleaner, Glues, Herbicides, Insecticides, Mothballs, Motor Oil, Oven Cleaner, Paints/Paint Thinner, Pesticides, Photographic Chemicals, Propane Cylinder,  Tanks, Rodent Poisons, Silver Polish, Swimming Pool Chemicals, Stains, Tires, Toilet Bowl Cleaner, Turpentine, Varnish, Water Sealant, Old Appliances (Freezers, Washers, Dryers, Air Conditioners, Compressors, Water Heaters, Other Refuse Metals), Old Medical Supplies.
For more information, call (662) 489-2415.