By JOEL McNEECE
The Mississippi Department of Transportation (MDOT) is expected to file a motion in circuit court in the next few weeks that will likely lead to the closing of Calhoun City's Sonic.

MDOT is completing the acquisitions of right-of-way for the proposed three-laning of Hwy. 8 from Calhoun City to Derma, but no agreement has been forthcoming between the state agency and the Calhoun City Sonic's owners.
"The bottom line is I won't be able to reopen the store based on what they're offering right now," said Glen Young, one of the Grenada partners that owns the Sonic in Calhoun City.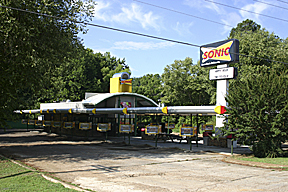 The proposed changes for the Hwy. 8 project includes the replacement of three bridges, particularly the one in front of the Sonic. A temporary bridge will have to be installed first which will virtually consume all of the Sonic's property.
Young said MDOT is offering him a value for the depreciated Sonic building that was originally built in 1978. The cost to build a new Sonic, with the requirements Sonic headquarters has in place for its new restaurants, far exceeds the offer put forth by MDOT.
"We have a good business in Calhoun City," said Young, who is partners in several other Sonics around the state. "But it's not good enough that we could afford the size note it would require for us to build a new business."
Young said MDOT has been "collecting information" from him and his business partners the past few weeks and he expects the court filing to take place very soon.
Tony Sheffield, an assistant district engineer in the MDOT Batesville office, couldn't confirm when the issue may be taken to court, only that right-of-way issues remain to be solved.

Sheffield said the road project consists of three bridge replacements and the addition of a middle turn lane from just west of the Sonic to approximately the entrance of the Fred's store.
He said they hope the project begins within the next year, but that hinges on right-of-way issues and the funding being in place.
Young said he's been hearing about the Hwy. 8 expansion for more than 10 years.
"It has steadily gotten pushed farther and farther back," Young said. "That has suited us fine because it allows us to continue operating our business."
"Calhoun City doesn't need to lose any businesses," Young said. "We're not the biggest business around, but last year we had a quarter-million dollar payroll and we pay our share of taxes. I just hate to see it come to this."
Young said he's had other stores that had to give up a few stalls due to road widening, but never the "whole business."
Young said he's holding out hope that MDOT will come up with an offer that will allow him to take out a loan to build a new Sonic in Calhoun City.
"We hope something works out," Young said. "But if we have to settle for their current offer it's just not possible for us to rebuild."