By JOEL McNEECE
Frances Hardin, of Calhoun City, can recall with great clarity the moment the United States entered World War II.  She was working for Congressman Jamie Whitten in Washington, D.C. and had been invited to a professional football game.
"I had never been to a professional ball game before, so I thought why not," Hardin said.
Not long into the game many in the crowd began noticing that numerous colonels, generals and other military officers were being called out of the stadium.

"We weren't really sure what was going on," Hardin said.
It wasn't long after they walked out of the game they discovered what had happened – the Japanese had bombed Pearl Harbor.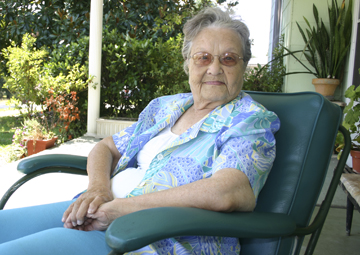 "I went straight to the office and ended up staying there all night long answering the telephone," Hardin said. "People were constantly calling trying to find out what had happened and asking about specific soldiers they knew at Pearl Harbor."
The next day, President Franklin D. Roosevelt was scheduled to speak in the U.S. Capitol with the expectation that he ask Congress to give the official declaration of war.
"Congressman Whitten told me to go on over there so I went, but there were so many people crowded around the capitol I couldn't get in," Hardin said. "I saw President Roosevelt pull up and watched him go inside."
Hardin's experience in Washington is among the many she recalls during her 91 years.
She was raised in Charleston the daughter of Frances Hey and Claude Earl Fox, Sr. Her father opened one of the first Piggly Wigglys in Mississippi. The originals were called Clarence Saunders' grocery after the company's founder in Memphis.
"My father was a butcher by trade," Hardin said.
She worked in the store growing up and always had a desire to attend business college. After graduating from high school her father made her a deal – "if you go to Delta State for a year and don't like it, I'll send you to business school."
She stayed at DSU earning a degree in business in 1941. Delta State was a teachers' college where all graduates earned lifelong teaching certificates, but that didn't interest Hardin.
"I never intended to teach a day of school in my life," Hardin said. "I just got the license whether I wanted it or not."
While at DSU she met Lee Lon Pryor Jr., of Calhoun City. Mr. Pryor's family was in the funeral home business in Calhoun City.
The two soon were engaged. Mr. Pryor still had to attend embalming school in St. Louis before they were to be married, so Hardin returned home to Charleston.
"I was bored to death," Hardin said.
Then one day while in front of her father's store, family friend Jamie Whitten, an attorney in Charleston at the time, came down from his upstairs office.
"I told him how bored I was and that there had to be something I could do for him," Hardin said.
Whitten gave her a job as his personal secretary paying her $10 a week.
He was also just beginning an election campaign for Congress which he ultimately won.
"After he got elected, I told him I was not going to Washington because I wouldn't know what to do once I got there," Hardin said. "He said 'you're going.'"
She had only been there a month before the attack on Pearl Harbor.
A week after President Roosevelt declared war, Hardin got on a train bound for St. Louis where she and Pryor were soon married.
He joined the Air Force and was ironically stationed at Andrews Air Force Base just outside Washington where they moved to.
Over the next few years they had a daughter, Frances Maurene, and he was then moved to Melville, New Jersey, to undergo training as a pilot. It was there on May 2, 1945 that he was killed during training when two planes collided in air and fell into a lake.
"It was around 5 p.m. and from what we were told, the sun got in the eyes of the pilot in front and it set off the collision," Hardin's son-in-law John Burt said.
That was scheduled to be Pryor's last training flight before being sent overseas to fight. In another twist of irony, the war ended only six days later.
"I remember that train ride back to Calhoun City with the body," Hardin said.
She decided to stay in Calhoun City afterwards because Pryor was an only child, and she knew his family would want to spend time with his young daughter.
Her mother understood the decision, but had one question – "where is Calhoun City?"
"She had never heard of Calhoun City before I got married," Hardin said.
A few years later she met John Herrod Hardin who had fought overseas during World War II. He had a twin brother and the two of them were better known as "Big" and "Little."
She and "Big" ultimately married and had a son – John Fox Hardin, who is a retired carpenter in California today.
Hardin needed to find a career in Calhoun City and was asked by Calhoun City Principal D.L. Harrison to come to work for him.
"I told him I wasn't interested in any teaching job," Hardin said. "He said, 'you don't have to teach. You can be my secretary.'"
She began working at the school in 1949, and the first week on the job the business teacher left.
"He asked me to take it," Hardin said. "Thirty years later I was still there."
Hardin taught typing, bookkeeping and shorthand. Every student had to take one of those before graduation, so in her 30 years she taught virtually everybody in Calhoun City.
"I meet a former student of mine almost every day," Hardin said. "It's always great to see them."
"I hear from so many of her former students that ask about her. It lets me know of what an impact she had on them," John Burt said.
Among Hardin's many memories are Keith Cobb constantly asking questions in bookkeeping class (He later became an accountant.), Jane Mitchell asking for her to put more "ink" in her typewriter (Hardin put another "ribbon" in) and getting Kermit Dye a job as a butcher at Rupert Lunceford's store.
Hardin had gone to work with the co-op program placing young people in jobs during her last decade of teaching.
Hardin's daughter Frances Burt said her mother knew of everything going on at the school.
"She knew what my report cards said before I did," Burt said. "She knew everything."
Hardin stepped down from teaching in 1980 and continues to enjoy her retirement today, 30 years later.
She enjoys visiting with friends on the phone, sitting on her front porch and getting out every now and then, even though she quit driving a few years ago due to failing eye sight.
When asked if she had any secrets for a long, healthy life, she said "have a good son-in-law and daughter to wait on you."
"I have no regrets," Hardin said. "I'm fine. It feels good to be 91."