A large crowd turned out at Bruce High School Wednesday morning to watch five Bruce Trojans sign scholarships to play college football next season at a national Signing Day gathering in the BHS library.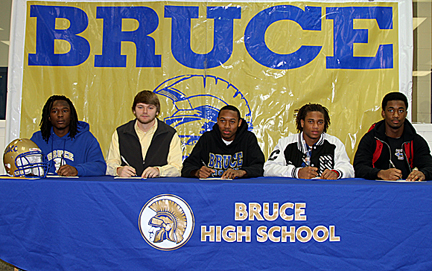 Four of the five Trojans signing on Wednesday – WR Shaq Bush, QB Davis Brown, WR Rashad Turner and LB Jonathan Bobo –  chose Northeast Community College in Booneville.
Defensive End Deshawn Tillman signed with East Mississippi Community College.
Bruce Coach James Ray said this wasn't the last of the Trojan signees.
"This is just the beginning," Ray said. "I believe over the next few weeks we'll see more of our players signing scholarships."
Ray spoke to those in attendance thanking these seniors for their contributions to the Trojan football program and encouraging the underclassmen to follow in their footsteps.
"We're so proud of each of you," Ray told the signees. "Your hard work has helped our program achieve success and more importantly has created an opportunity for you to further your education."