The Calhoun City Wildcats' season ended Friday night with a 35-13 home loss to Eupora in a Class 2A North Half Semifinal.
The Wildcats drove 64 yards in seven plays for a touchdown on the game's opening possession, but Eupora dominated from that point on.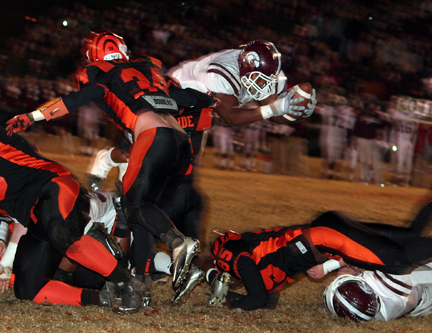 QB Chakel Gates scored the touchdown on a 1-yard run for a 7-0 lead with 9:51 to play in the opening quarter.
Eupora immediately answered with a 56-yard touchdown pass from Trey Pittman to Derrick Jones to tie the game at seven.
A bad snap on a punt attempt by the Wildcats set Eupora up with the ball at the Calhoun City 30-yard line early in the second quarter. Two plays later, Pittman and Jones connected on a 28-yard touchdown pass for a 14-7 advantage.
After a Wildcat punt on the ensuing possession, Eupora marched 55 yards in 10 plays for a touchdown on a 1-yard run by Vandy Smith. The Eagles led 21-7 at the half.
Eupora capped a 73-yard scoring drive with a 21-yard touchdown pass from Pittman to Jones on the first possession of the second half.
Savon Daughtery scored on a 1-yard run for the final Eupora points and a 35-7 lead early in the fourth quarter.
The Wildcats drove 71 yards for a touchdown on their next possession. The score came on a 9-yard pass from Gates to Brieton Sykes. The 2-point conversion failed for a 35-13 score.
Eupora picked up three first downs on the ensuing possession to unable them to run out the final five minutes and earn the victory.
Eupora will host Bruce next Friday in the 2A North Half Championship.
Photo by Lisa McNeece