By JOEL McNEECE
Remembrance, thankfulness, and maintaining a connection were all messages delivered to crowds gathered at Memorial Day programs in Bruce and Calhoun City last Saturday and Monday.

By JOEL McNEECE
Remembrance, thankfulness, and maintaining a connection were all messages delivered to crowds gathered at Memorial Day programs in Bruce and Calhoun City last Saturday and Monday.
"Memorial Day weekend has become the first holiday of summer, another three-day weekend to go out and barbeque and go to the lake," Dr. Mike Young said during the Memorial Day Service on the Bruce Square Monday. "You being here today, you stopped what you were doing and made a special effort to come and remember our war dead, our military families who loved them and sacrificed them. You understand."

Dr. Young spoke of his concern of too many people not understanding, or not taking the time to honor those who have provided them with the freedom they enjoy.
Dr. Young said there have been over 1.3 million casualties of war in our nation's history.
"That's a lot of soliders," he said. "In the last year since last Memorial Day, we've had 565 men and women killed in Iraq and Afghanistan."
Dr. Young's brother Gary was killed in Vietnam at the age of 18. Dr. Young asked for all in the crowd with family or friends killed in combat to raise a hand.
"Look at the hands," Dr. Young said looking over the large crowd.
"As long as we can look at pictures, as long as we can name names it remains an important holiday to us," Dr. Young said. "We can attribute special significance to it."
"We're here today for a common spirit. We have the patriotic feelings in our heart," Dr. Young said. "It's being lost throughout this country. There are fewer and fewer people today with military connections. I'm proud to see us keeping this alive. It's important for our country."
Dr. Young urged all who could to affiliate with military and veterans' organizations.
Bruce Mayor Robert Edward Oakley, speaking at the Bruce program on the square, said less than 1% of Americans today serve in the military.
"The Pentagon says 7% of our nation have served in the military," Oakley said. "What really got my attention was that the Pentagon says that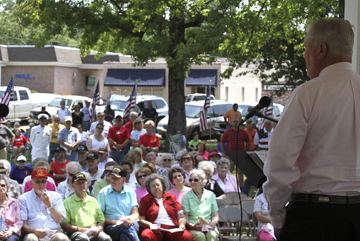 there are many Americans today who not only don't know anyone serving in the military on active duty, they don't even know a veteran. I'm proud to be here today in Bruce and Calhoun County, Mississippi where that's not true."
Oakley proceeded to read the names of the 113 Calhoun Countians listed on the veterans' monument on the Bruce Square who were killed in World War I, World War II, Korea and Vietnam. He urged anyone who knows of a Calhoun Countian who died in service to their country who is not listed on the monument, to inform City Hall so they can get it engraved.
Rev. Buford Usry spoke on the Calhoun City Square Monday morning. He spoke of the importance of remembering the sacrifices of so many for the freedom of our country.
"It is my prayer, that our comrades who paid the ultimate sacrifice will never, never, never, no never be forgotten," Usry said.
A veteran Marine who fought at Iwo Jima in World War II, Usry spoke of seeing so many of his friends killed around him in battle. He said he often thinks of their families and the sacrifices they've made as he was able to come home to his wife and daughter.
"I have no buddies left that I fought with," Usry said. "They're all gone and I guess I'm on my way, but I know where I'm going. And I hope I've been a good soldier both for my country and my God."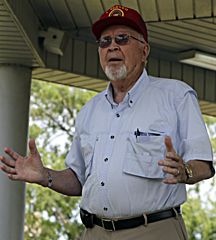 Circuit Judge John Gregory spoke at a memorial service at Pryor Funeral Home on May 28. He expressed his appreciation to veterans noting that "Freedom Isn't Free." He concluded his remarks with a poem so entitled by Air Force Cadet Major Kelly Strong.
"I heard the sound of taps one night, when everything was still. I listened to the bugler play, and felt a sudden chill. I wondered just how many times that taps had meant Amen? When a flag had draped a coffin of a brother or a friend. I thought of all the children, of the mothers and the wives, of fathers, sons and husbands with interrupted lives. I thought about a graveyard at the bottom of the sea, of unmarked graves in Arlington... no, Freedom isn't free."