Author Dr. James R. Crockett will be at the Calhoun City Public Library Thursday, Feb. 6 at 6 p.m. to talk about his book and to sign copies for the public.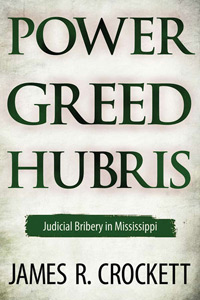 Dr. James R. "Jim" Crockett, 71, is a Mississippi author who grew up in Jackson, and had a career as an Air Force officer and university professor and administrator.
Crockett's new book "Power Greed Hubris: Judicial Bribery in Mississippi", published by University Press of Mississippi was released January 1.
The most significant legal scandal of twenty-first century Mississippi occurred from 2003-2009 when trial lawyers Paul Minor and Richard "Dickie" Scruggs and Judge Bobby DeLaughter put themselves above the law they vowed to uphold.
The book chronicles the details and complicated schemes that landed three judges, six attorneys, and a former state auditor in federal prison.
Dr. Crockett said, "There are two major moral lessons for readers. First, no one is above the law, so beware of power, greed and hubris. Also, people need to know that there are still heroes out there who are willing to stand up to criminal activity even when such action involves personal risks."
The Library is at 113 East Burkitt Ave. Light refreshments available.