One of the most popular hunting days of the year is quickly approaching. This year, opening day of Mississippi's dove season is Saturday, September 1.
Conservation officers with MDWFP will be present throughout the state to ensure safety and compliance with all state and federal hunting regulations.  During their final preparations for opening day, hunters need to consider the following: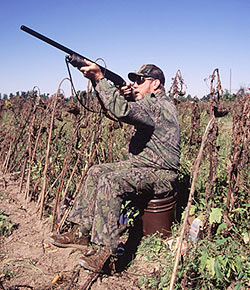 ·       Hunting licenses should be current for the 2012 hunting season, complete with Harvest Information Program (HIP) certification.  HIP certification is completed whenever a hunter answers questions about their previous seasons' bird harvest when purchasing a license.
·       Hunters should be sure their shotguns are plugged and are not capable of holding more than three shells.
·       Hunting with the aid of bait is illegal, and it is the hunter's responsibility to know if the field is baited or not.  Hunters need to be able to answer these questions before hunting.  Did I know the field was baited? Did I look to see if the field was baited? Did I ask how the field was prepared?
·       The bag limit for mourning doves is 15 per day with no more than 30 in possession, and the possession limit does not apply on opening day.  Legal shooting hours are from 30 minutes prior to sunrise to sunset.
For more information regarding dove hunting in Mississippi, visit our website at www.mdwfp.com/wildlife-hunting or call us at 601-432-2199. Follow us on Facebook at www.facebook.com/mdwfpor on Twitter at www.twitter.com/MDWFPonline.