The Calhoun City Lady Wildcats defeated Vardaman 4-3 in dramatic fashion Friday night.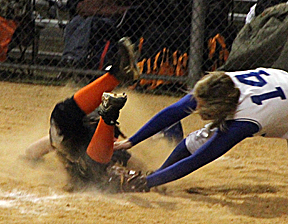 Leading 4-3 in the bottom of the eighth inning, Santana McKissick made a diving catch in left field to end the game.
Calhoun City had led throughout, opening a 1-0 lead early in the game and expanding their lead to 3-0 when Kasey Hodge drove home two runs with a drive off the center field fence.
The Lady Rams battled back to tie it in the 6th when they manufactured three runs on only one hit – a single by Whittney Gee.
Both teams went scoreless in the seventh to send the game into extra innings.
The Lady Wildcats scored a run in the top of the eighth when a pop-up that appeared to be destined for the third out dropped to the ground when three Lady Rams collided going for the ball.
The Lady Rams were then threatening to tie the game in the eighth when McKissick made her diving catch to preserve the win for Calhoun City.