I was sitting on the couch Sunday afternoon when as she has done hundreds of times before, my 15-year-old black Lab Daisy walked up beside me and dropped her now solid grey muzzle on my leg, seeking only a rub on the head.
I obliged, as always, as anyone would. No one could resist Daisy – an incredibly sweet, relatively quiet, and extremely loyal dog whose life mission was simply to please.
Monday night, I made the painful and hurried drive to Oxford, with hazards blinking and Daisy lying at my side. I rubbed her head throughout hoping to let her know it was okay. It was time.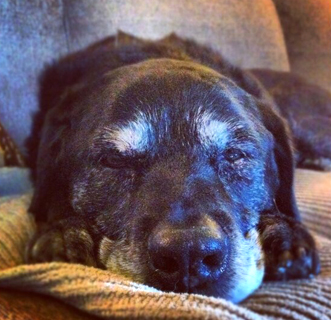 Daisy was born approximately one month prior to Lisa and I meeting. Lisa was invited to Fulton to see the new litter of black puppies that were born to the mother of Lisa's fox red Lab, Carter.
Finding them too hard to resist, Lisa insisted my Border Collie King needed a playmate in Winona, and a few weeks later she gave Daisy to me.
King and Daisy accompanied me on almost every trip to Bruce, despite the fact Daisy didn't enjoy riding in the car. She would climb down in the back floorboard and try to bury herself under the seat, often becoming carsick.
As she grew older, she became more fond of road trips, most often cramming her nose as far as she could into an air conditioning vent or against the front windshield. She was never a backseat rider.
Daisy ran the roost at our house as the lone female in our pack. While never the largest at just over 90 pounds, she could flash some teeth or give a faint growl and stop our 100-plus pound Yellow Labs in their tracks. They would cower down to her every single time.
Her hunting exploits are legendary. I've seen her chase down squirrels and even snag a low flying bird out of the air. I've buried opossums, an armadillo and a few stray cats who made the mistake of encroaching in our backyard, or should I say Daisy's yard.
Unlike our other dogs who preferred a spot on the couch, the foot of the mattress or a dog bed in the corner, Daisy loved the outdoors. She loved to lie down just outside the back door keeping an eye out for everything as she continued to do even in her old age.
She reveled in the chance to roam the neighborhood free of a leash, coming home when she was ready, sitting at the front door until someone let her in.
Lisa and I always joked that Daisy would be the perfect dog, if not for her horrifying breath.
I loved how the sun would give her black, velvet-like fur a bluish tint. I loved her wagging tail when I came home from work, the way she slept in the floor right beside me all her life, and her cold nose on my hand when she needed a little attention.
Daisy loved every day as we all should. Even as time turned her black hair grey, stole her hearing, stiffened her hips, and transformed her beautiful gallup into a slow walk, it couldn't stop her wagging tail, her selflessness and love for our family.
I'm a dog person. I don't believe there's such a thing as a bad dog. As I rubbed her head as she fell asleep for the final time Monday night, I thanked her for being a great dog.
You may email Joel McNeece at joelmcneece@gmail.com and follow him on Twitter at @joelmcneece