The latest forecast calls for a wintry mix tonight that could make roads impassable Tuesday morning. Local school officials say they will wait until 6 a.m. to decide if schools will be open.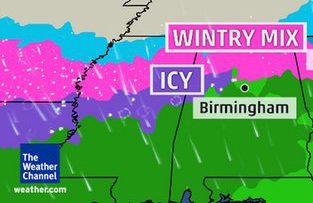 The National Weather Service is predicting a mixture of rain and wet snow this evening becoming a light mix of wintry precipitation overnight.
The low is expected to be in the mid 20s with winds north-northeast 10-20 mph.
Chance of precipitation is currently at 90% for tonight with snow accumulations less than one inch.
The county is under a "winter weather advisory" until noon Tuesday.
The Mississippi Highway Patrol is asking that only in cases of emergency or absolutely necessary that anyone travel tomorrow (Tuesday).
"Don't wait until you have started your journey to decide it was a bad idea," MHP said in a press release. "Anticipate Law Enforcement to be extremely busy with those that didn't heed warnings. If you are off a roadway due to ice it could be quite some time before help arrives."
"If you need to know about road conditions please dial 511. Do not call law enforcement agencies for that information."
Supervisor J.B. Rogers reported he and other county officials have loaded rock for local bridges, installed blades on tractors and graders in preparation for whatever may come.
Superintendent Mike Moore and Calhoun Academy officials said they have not made a decision as of yet as to whether they will hold school tomorrow.